ADIMIRON: tour americano coi Suffocation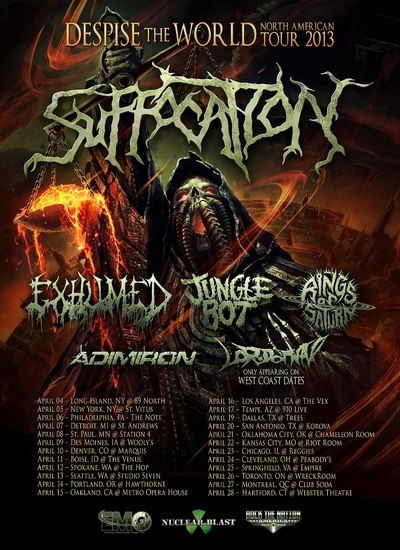 I progressive deathsters ADIMIRON annunciano il loro primo tour in Nord America e Canada. Dopo una lunga serie di tour stranieri senza soluzione di continuità, l'ultimo dei quali in Europa in compagnia di Vader e Aborted, la band capitolina conferma il suo primo itinerario in terra americana in compagnia di Suffocation, Exhumed, Jungle Rot, Rings of Saturn e Lord of War, unendosi al "DESPISE THE WORLD" Tour 2013 che partirà da Long Island, NY il 4 Aprile.
Commenta così il leader e portavoce della band Alessandro Castelli: "con i Suffocation avevamo diviso il palco per la prima volta lo scorso Marzo per un breve tour. Da quel momento siamo rimasti in contatto e dopo qualche mese abbiamo firmato per il loro stesso management. Condividendo con loro il nostro team di lavoro, dopo i nostri impegni in Europa si è presentata questa fantastica occasione che rappresenta per noi non un punto di arrivo ma l'ennesimo punto di partenza. Contiamo di rappresentare degnamente il nostro paese, dopo i feedback positivi che altri colleghi italiani hanno raccolto prima di noi in quel mercato, speriamo di confermare quanto di buono detto dall'Italia nel recente passato."
Di seguito le date annunciate e i dettagli:
Thursday, April 4th: Long Island, NY @ 89 North
Friday, April 5th: New York, NY @ St. Vitus
Saturday, April 6th: Philadelphia, PA - The Note
Sunday, April 7th: Detroit, MI @ St. Andrews
Monday, April 8th: St. Paul, MN @ Station 4
Tuesday, April 9th: Des Moines, IA @ Wooly's
Wednesday, April 10th: Denver, CO @ Marquis
Thursday, April 11th: Boise, ID @ The Venue
Friday, April 12th: Spokane, WA @ The Hop *
Saturday, April 13th: Seattle, WA @ Studio Seven *
Sunday, April 14th: Portland, OR @ Hawthorne *
Monday, April 15th: Oakland, CA @ Metro Opera House *
Tuesday, April 16th: Los Angeles, CA @ The Vex
Wednesday, April 17th: Tempe, AZ @ 910 Live *
Thursday, April 18th: Albuquerque, NM - Hooligans Nightclub
Friday, April 19th: Dallas, TX @ Trees
Saturday, April 20th: San Antonio, TX @ Korova
Sunday, April 21st: Oklahoma City, OK @ Chameleon Room
Monday, April 22nd: Kansas City, MO @ Riot Room
Tuesday, April 23rd: Chicago, IL @ Reggies
Wednesday, April 24th: Cleveland, OH @ Peabody's
Thursday, April 25th: Springfield, VA @ Empire
Friday, April 26th: Toronto, ON @ WreckRoom
Saturday, April 27th: Montreal, QC @ Club Soda
Sunday, April 28th: Hartford, CT @ Webster Theatre
Info, tickets e dettagli su:
http://www.adimiron.org
http://www.facebook.com/K2MUSICManagement
http://www.facebook.com/extrememanagementgroup
Inserita da:
HeavyGabry
il 23.02.2013 - Letture:
1401
Articoli Correlati
Interviste
Live Reports
Spiacenti!

Non sono disponibili Live Reports correlati.
Concerti
Spiacenti!

Non sono disponibili concerti correlati.
Altre News di MetalWave
Notizia Precedente
Notizia Successiva