DARKNESS RISING FESTIVAL: quattro band italiane confermate!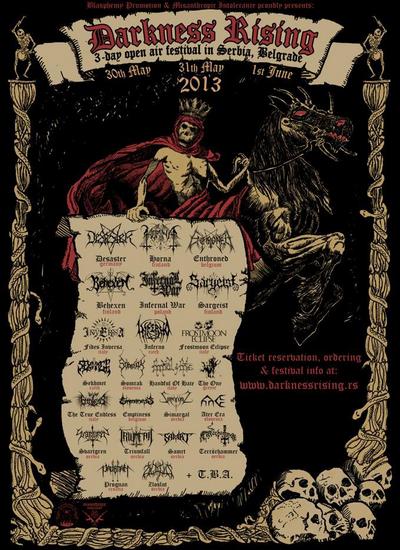 Frostmoon Eclipse, Handful Of Hate, Fides Inversa e The True Endless sono tra le band confermate per il Darkness Rising Festival 2013, evento dedicato totalmente al Black Metal che si svolgerà a Belgrado (Serbia) tra il 30 maggio e l'1 giugno.
Di seguito le band confermate finora:
Desaster (Germany)
Horna (Finland)
Enthroned (Belgium)
Behexen (Finland)
Infernal War (Poland)
Sargeist (Finland)
Fides Inversa (Italy)
Inferno (Czech)
Frostmoon Eclipse (Italy)
Sekhmet (Czech)
Somrak (Slovenia)
Handful Of Hate (Italy)
The One (Greece)
The True Endless (Italy)
Emptiness (Belgium)
Simargal (Serbia)
Ater Era (Slovenia)
Svartgren (Serbia)
Triumfall (Serbia)
Samrt (Serbia)
Terrörhammer (Serbia)
Prognan (Croatia)
Zloslut (Serbia)
+ T.B.A.
Biglietti per tre giorni:
21.12 - 15.01 30 euro in promozione
16.01 - 31.03 40 euro prezzo in prevendita ridotto
01.04. - 29.05. 50 euro prezzo regolare
30.05. - 01.06. 60 euro in cassa
Biglietti per un giorno:
(disponibili da aprile 2013)
01.04 - 29.05 25 euro
30.05 - 01.06 30 euro
Inserita da:
HeavyGabry
il 19.12.2012 - Letture:
1043
Articoli Correlati
Altre News di MetalWave
Notizia Precedente
Notizia Successiva