LAST NIGHT BEFORE THE END: i dettagli della serata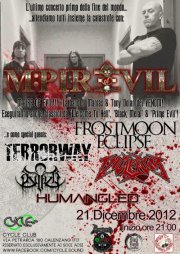 Siete pronti per la fine del mondo e per l'inizio di un nuovo Eone??? Venerdì 21 dicembre secondo un'antichissima profezia Maya entriamo in un nuovo ciclo che sarà sicuramente diverso da quello che sta finendo... questo vuol dire che il mondo che consciamo adesso finirà??? Scopriamolo tutti insieme!!! Per allietarvi e distrarvi durante le ultime ore d'attesa Black Dawn promotion ha organizzato una grande festa che andrà avanti tutta la notte con tante soprese!!!
Si esibiranno per l'occasione:
M:PIRE OF EVIL - 00:00/1:15
(Mantas & Tony Dolan - ex Venom), esiguiranno molti pezzi dai più celebri capolavori della band culto inglese!!!
FROSTMOON ECLIPSE - 23:00/23:45
TERRORWAY - 22:00/22:45
VIOLENTOR - 21:00/21:45
SULFUR - 20:15/20:45
HUMANGLED - 19:30/20:00
INGRESSO 10 EURO riservato ai soci ACSI
Info: Blackdawnpromotion@gmail.com
Inserita da:
Jerico
il 24.11.2012 - Letture:
1541
Articoli Correlati
Interviste
Spiacenti!

Non sono disponibili Interviste correlate.
Live Reports
Spiacenti!

Non sono disponibili Live Reports correlati.
Altre News di MetalWave