THE NIGHT OF THE SPIDER: i dettagli della prima serata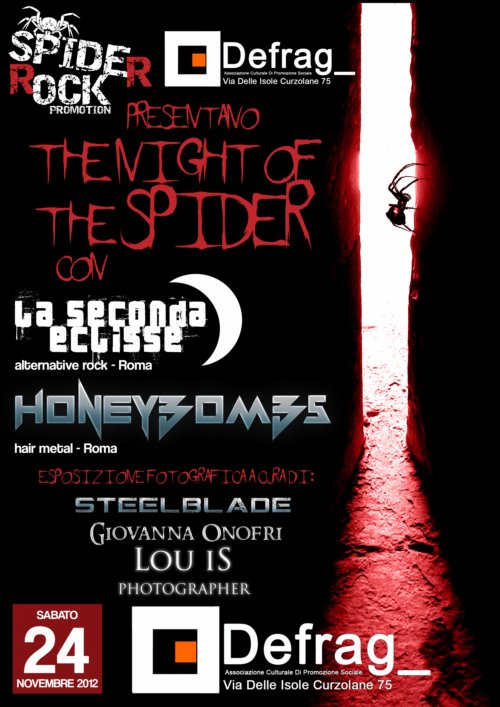 Spider Rock Promotion e Associazione Defrag sono liete di annunciare THE NIGHT OF THE SPIDER, una nuova rassegna in cui la musica originale emergente sarà protagonista di serate dall'alto contenuto culturale. Infatti al fianco delle tradizionali esibizioni dal vivo (in genere un paio di band a serata) verranno proposte iniziative artistiche collaterali - formula già sperimentata con successo da Spider Rock Promotion - oltre a favorire il coinvolgimento dei presenti allo scambio di opinioni sulla scena musicale Hard'n'Heavy romana in generale e sulle band della serata in particolare.
Il primo appuntamento è già fissato per sabato 24 novembre 2012 alle ore 22.00, con LA SECONDA ECLISSE e HONEYBOMBS.
LA SECONDA ECLISSE è una band nata nel 1997 che propone un alternative rock cantato in italiano, hanno all'attivo un album uscito nel 2006, intitolato Alea.
HONEYBOMBS è la new entry nel roster di Spider Rock Promotion, e sono alla prima uscita ufficiale. L'occasione è ghiotta per rivedere dal vivo i componenti di I Suffer Incorporated e Blind Horizon in un moderno Hair Metal!
A fianco dell'evento musicale sarà allestita una mostra fotografica a tema, con l'esposizione di opere di tre fotografi attivi nel settore Live Events/Book fotografici/Rock. I fotografi saranno:
SteelBlade (
http://www.steelblade.net/
)
Lou iS Photographer (
https://www.facebook.com/pages/Lou-iS-PHOTOGRAPHER/241987689144564?sk=photos_stream
)
Giovanna Onofri (
http://giovanna-onofri.blogspot.it/
)
Per cui ricordiamo:
THE NIGHT OF THE SPIDER - Serata I
LA SECONDA ECLISSE
HONEYBOMBS
+ Esposizione fotografica
Sabato 24 Novembre 2012, Defrag - Via delle Isole Curzolane, 75
Inserita da:
Jerico
il 12.11.2012 - Letture:
1189
Articoli Correlati
Interviste
Spiacenti!

Non sono disponibili Interviste correlate.
Live Reports
Spiacenti!

Non sono disponibili Live Reports correlati.
Concerti
Spiacenti!

Non sono disponibili concerti correlati.
Altre News di MetalWave
Notizia Precedente
Notizia Successiva