CHROMIUM XXXII : Rising Hate From Hell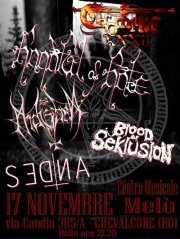 Finalmente il Chromium torna alla sua "storica" sede, il Centro Musicale Melò!
In tema con la stagione che vira verso tempi freddi e oscuri ecco per voi una serata dedita al sound dell'inferno e alle gelide note del Black Metal!
Si esibiranno per voi (in ordine dalla prima all'utima band):
- Sedna (Black/Sludge Metal)
- Blood Of Seklusion (Death Metal)
- Midgard (Industrial-Black Metal)
- Handful Of Hate (Black Metal)
Presso il CENTRO MUSICALE MELO', a Crevalcore (BO) in via Candia N° 385/A
Sabato 17 novembre 2012
Orario di Inizio: 21.30
Orario di Fine: 02.00
Come sempre, INGRESSO GRATUITO E BIRRA A FIUMI!
All Hail Extreme Meta!!!!!!!!!
Inserita da:
Jerico
il 12.11.2012 - Letture:
1149
Articoli Correlati
Interviste
Spiacenti!

Non sono disponibili Interviste correlate.
Concerti
Spiacenti!

Non sono disponibili concerti correlati.
Altre News di MetalWave
Notizia Precedente
Notizia Successiva