ROMAN HARD N HEAVY DAY: i dettagli della seconda edizione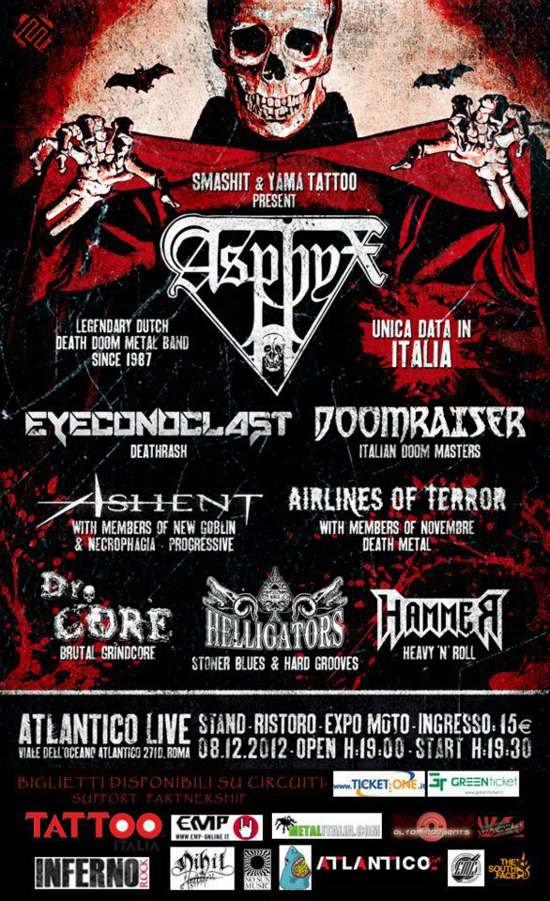 SMASH IT & YAMA TATTOO PRESENTS:
Dopo il grande successo della prima edizione del Roman Hard n Heavy day festival all' Atlantico live di Roma, Smash it & Yama tattoo studio si riuniscono per proporre la seconda edizione di questo immancabile appuntamento capitolino che mira all'esempio dei festival più importanti per gli amanti del genere Hard and Heavy & extreme Metal.
Saranno presenti gruppi del calibro di ASPHYX, legendaria Death/doom band olandese dal 1987 in unica data italiana, gli ASHENT con componenti dei NEW GOBLIN e NECROPHAGIA, DOOMRAISER, maestri del Doom metal italiano, Gli AIRLINES OF TERROR insieme a componenti della rinomata band NOVEMBRE, Gli EYECONOCLAST, storica e tecnica thrash/Death metal band capitolina e molti altri nomi della migliore scena romana come HELLIGATORS (Hard rock), DR GORE (Brutal Death/grind) & HAMMER (Heavy Metal).
A rendere più piacevoli le ore che accompagneranno la manifestazione saranno presenti anche aree stand, aree ristoro ed esposizioni moto. Un evento indimenticabile che avrà luogo all'interno dell'Atlantico live di Roma.
INGRESSO: 15 euro
APERTURA CANCELLI: 19:00
PRESTO TUTTI I DETTAGLI !
Biglietti in vendita presso i circuiti internet e box office:
• Ticket one
• Green ticket
Support Partnership: Inferno magazine, Tattoo Italia, Emp, Metal Italia, Italian Thrash Attack, Epic music center, No sun, Altamira Events, Classic Metal, The south face, Rock n roll Eventi.
Inserita da:
Jerico
il 07.11.2012 - Letture:
1891
Articoli Correlati
Altre News di MetalWave
Notizia Precedente
Notizia Successiva