METAL ALLIANCE FEST: i dettagli della quarta edizione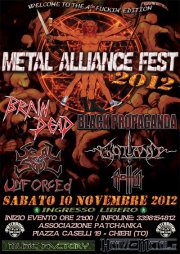 Welcome to the 4th edition!!
Siamo giunti alla quarta edizione del Metal Alliance Fest!! Evento organizzato per dare spazio alle bands emergenti di suonare live, e per poter condividere insieme palco, emozioni, musica, spallate, sudore, birra e tutto ciò che un concerto metal può dare!!
Buon divertimento e buon massacro a chi parteciperà! Ecco qui la scaletta del festival:
Inizio evento ore 21.00
ROTTEN
http://www.facebook.com/RoTTeN.metalband
http://www.youtube.com/RoTTeNOFFICIAL
http://www.soundcloud.com/rotten-5
UNFORCED
http://www.facebook.com/unforced?ref=ts
http://www.myspace.com/unforced
SEAL OF SOUL
http://facebook.com/SEAL.of.SOUL.it
http://www.myspace.com/sealbandto
GOTLAND
http://www.facebook.com/pages/Gotland/125796154581?ref=ts
http://www.facebook.com/gotland.metalband?ref=ts
http://www.myspace.com/gotlandmetal
http://www.youtube.com/user/Gotlandmetal
BLACK PROPAGANDA
http://www.facebook.com/blackpropagandametal
http://www.blackpropagandametal.com/
BRAIN DEAD
http://www.facebook.com/pages/Brain-Dead/45127691823?ref=ts
http://www.myspace.com/braindeadthrashband
INGRESSO LIBERO
INDUSTRIAL PATCHANKA
PIAZZA CASELLI, 19
CHIERI (TO)
x info:
gotland@hotmail.it
3333835312 - Daniele
3398154812 - Lorenzo
http://www.patchanka.org/
info@patchanka.org
Sponsors & Patners:
Heavy-Metal.it
http://www.heavy-metal.it/
Musicfactory sala prove
http://www.music-factory.it
Inserita da:
Jerico
il 14.10.2012 - Letture:
995
Articoli Correlati
Altre News di MetalWave
Notizia Precedente
Notizia Successiva