THEATRES DES VAMPIRES: headliner al HALLOWEEN NIGHT di Milano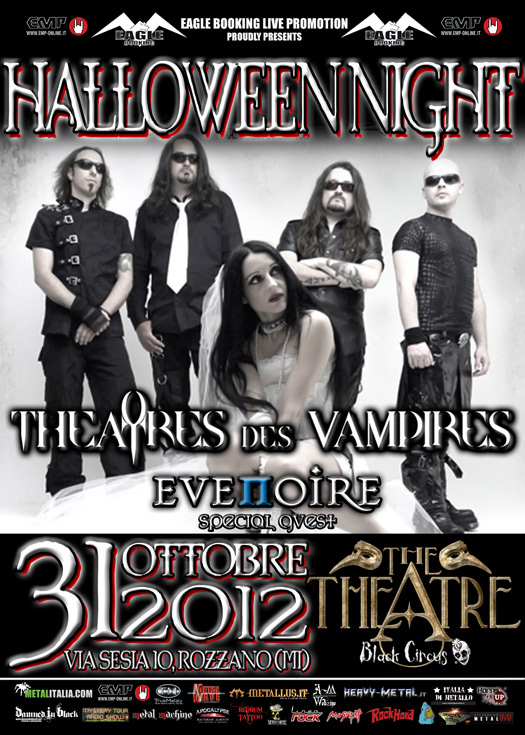 L'appuntamento è per Mercoledì 31 Ottobre 2012, presso il THE THEATRE club di Rozzano(MI) dove si terrà la festa di HALLOWEEN ideata da Black Circus.
Ottima Musica, tanto divertimento e ospiti d'eccezione, queste sono le parole d'ordine per un Halloween che promette scintille.
La serata comincia alle h 22:00 e sarà compito degli EVENOIRE cominciare la serata, per poi passare agli ospiti d'onore i THEATRES DES VAMPIRES, che di certo sapranno celebrare un evento del genere nel migliore dei modi!
Dopo i concerti il party proseguirà con lo staff di BLACK CIRCUS e tutta la sua animazione
Mercoledi 31 Ottobre 2012
HALLOWEEN NIGHT
THEATRES DES VAMPIRES, EVENOIRE + Special Guest
THE THEATRE Club
Via Sesia, 10 – Quinto de Stampi, Rozzano (MI)
Inizio concerti: Ore 22:00
Ingresso: €15 con prima consumazione inclusa!
Evento Facebook:
http://www.facebook.com/events/106784232814130/
Info:
info@thetheatre.it
http://www.thetheatre.it
Inserita da:
Jerico
il 11.10.2012 - Letture:
1100
Articoli Correlati
Altre News di MetalWave
Notizia Precedente
Notizia Successiva