ACID BRAINS: firma per RED CAT RECORDS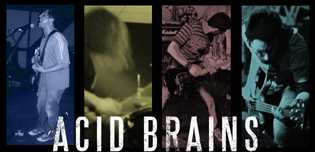 Red Cat Records è felice di annunciare l'entrata degli Acid Brains nel proprio rooster per la pubblicazione del loro quarto full length "Maybe", prevista per settembre 2012. L'album è stato registrato presso la "Tana del Lupo" (Lu) da Gherardo Monti e Giacomo Luporini, mixato da Gherardo Monti (Larione10-Fi, Decibel Recording studio) e masterizzato da Tommy Bianchi (Marlene Kuntz, Piero Pelù) presso White Sound Mastering studio (Fi).
Gli Acid Brains sono nati nel 1997 e provengano da Lucca.
Dopo vari cambiamenti di line up raggiungano la formazione attuale nel 2005. Duecento concerti all' attivo in tutta Italia con anche un passaggio dalla Svizzera. Tre demo autoprodotti "A life around this" 2000, "Very isolated" 2001 "New shit in my mind" 2002 e tre dischi ufficiali: "The end of the show" (2004 u.d.u records) ,"Far away" (2006 u.d.u records, edizioni Fridge Italia, Goodfellas) e "Do it better" (2009 Fridge records/Goodfellas).
Il nuovo album "Maybe" si muove tra il rock, il grunge,lo stoner, il punk e l'alternative in generale, ma con la volontà di cercare un sound più moderno, "diverso", e di lasciarsi influenzare da sempre più contaminazioni (che vanno dal post punk/dark al metal, dal brit al noise fino al "pop"): l'intenzione è quella di "divertire" l'ascoltatore e di ribaltare certi clichet che ormai hanno stufato un po' tutti!
CONTATTI BAND:
http://www.acidbrains.com
http://www.facebook.com/pages/Acid-Brains
http://twitter.com/#!/AcidBrains
http://www.myspace.com/acidbrains
LABEL:
web:
http://www.redcatpromotion.com
PROMOZIONE:
e-mail: alice@redcatpromotion.com
Inserita da:
Jerico
il 05.08.2012 - Letture:
901
Articoli Correlati
Interviste
Spiacenti!

Non sono disponibili Interviste correlate.
Live Reports
Spiacenti!

Non sono disponibili Live Reports correlati.
Concerti
Spiacenti!

Non sono disponibili concerti correlati.
Altre News di MetalWave
Notizia Precedente
Notizia Successiva