DESERT SOUND VOL. IV: doppia compilation in download gratuito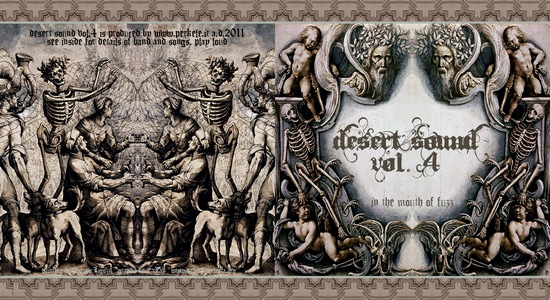 Realizzata e distribuita da Perkele.it, DESERT SOUND Vol. IV – IN THE MOUTH OF FUZZ raccoglie 25 brani al cardiopalma, il meglio della scena stoner heavy psichedelica e doom italiana. Venticinque gruppi che rappresentano alla perfezione lo spirito del magazine e di una sempre più fitta schiera di appassionati, due dischi che riuniscono schegge fumose e combustive, che vanno dal rock'n'roll bollente e scoppiettante a chitarre liquide e dilatate, ideali per appetitose cene acide. Fuzz sporchi e dissonanti, visioni lisergiche, feedback esondanti e riff schiacciasassi: questi sono gli ingredienti di DESERT SOUND Vol. IV. Un trip vulcanico in una penisola che risolve la crisi a botte di mantra doom e viaggi spaziali.
La compilation è disponibile in download gratuito digitale (in MP3 a 320 kbps e come file .Iso per il proprio CD personale) con artwork e packaging realizzato da ExLab, basato sui disegni originali dell'illustratore e pittore rinascimentale Jacopo Ligozzi.
Ecco la track-list completa di DESERT SOUND Vol. IV – IN THE MOUTH OF FUZZ:
Disco 1:
PATER NEMBROT - The Weaner
KAYLETH - The Survivor
THE WHIRLINGS - Calcutta's Sewers
ANUSEYE - Orb Weavers
MANTHRA DEI - Xolotl
KILL THE EASTER RABBIT - Silent Hour
HERBA MATE - Imargem
THREE EYES LEFT - La Fee Verthe (The Green Fairy)
MUFFX - Voices
SPACE PARANOIDS - Three Lonely Pines
BLACK CAPRICORN - Call of the Goat
CHORIACHI - Birkat Habayit
Disco 2:
THE WISDOOM - The Wisdoom
ZIPPO - Man of Theory (feat. Ben Ward)
CARONTE - Ghost Owl
CANNIBAL MOVIE - Fame
TURBOMATT - Kong Ché
DA CAPTAIN TRIPS - The Merkfolk Ride
THE DALLAZ - Losers
T.H.U.M.B. - Superlover
BONES & COMFORT - Orange Blossoms & Four Swans
ELEPHANTE - Toporagno
GODWATT REDEMPTION - Circles
MR. BIZARRO & THE HIGHWAY EXPERIENCE - Mastodont
BLACK RAINBOWS - Mastermind
Inserita da:
HeavyGabry
il 13.02.2012 - Letture:
1675
Articoli Correlati
Recensioni
Spiacenti!

Non sono disponibili Recensioni correlate.
Interviste
Spiacenti!

Non sono disponibili Interviste correlate.
Live Reports
Spiacenti!

Non sono disponibili Live Reports correlati.
Concerti
Spiacenti!

Non sono disponibili concerti correlati.
Altre News di MetalWave
Notizia Precedente
Notizia Successiva