SKANNERS: data a Bolzano con i CRYING STEEL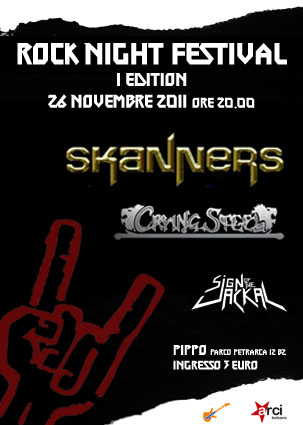 BRC per una sera non sarà Bologna Rock City ma BOLZANO Rock City! Sul palco del Pippo Stage due leggende dell'heavy metal italiano: SKANNERS e CRYING STEEL! Per gli SKANNERS è una serata importante vista la presentazione nella propria città del vinile "FACTORY OF STEEL" realizzato da Bologna Rock City Records, dopo l'anticipazione fatta lo scorso 5 novembre allo STEEL FEST di Bologna. Per i CRYING STEEL una prima volta a Bolzano per un duello tra due band che hanno fatto la storia del metallo nostrano. Ad aprire la serata SIGN OF THE JACKAL!
ROCK NIGHT FESTIVAL:
SKANNERS
CRYING STEEL
SIGN OF THE JACKAL
PIPPO STAGE Parco Petrarca -Via Cadorna, 7 -39100 Bolzano
Sabato 26 novembre
Ingresso 3,00 euro
Apertura porte ore 20,00
Inserita da:
HeavyGabry
il 22.11.2011 - Letture:
1198
Articoli Correlati
Interviste
Live Reports
Spiacenti!

Non sono disponibili Live Reports correlati.
Concerti
18 Lug. 2022

LUPPOLO IN ROCK 2021: Testament + Jinjer + Destrage + Skanners @ "Parco Ex Colone Padane", Cremona (CR)
Altre News di MetalWave
Notizia Precedente
Notizia Successiva