SUBLIMINAL CRUSHER: ristampa di Endvolution ed aggiornamenti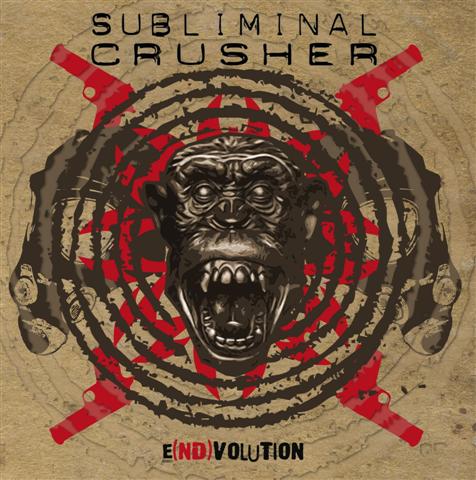 A poco più di un anno di distanza dalla prima stampa dell'ultimo studio album dei SUBLIMINAL CRUSHER, Endvolution, e dopo aver realizzato il sold-out di tutte le copie disponibili, la Punishment 18 Records e la band hanno deciso di procedere alla ristampa del disco.
In questa occasione sarà utilizzata la seconda delle due copertine disponibili: la cover "Evolution" realizzata da HwK, oramai riconosciuta come cover ufficiale del disco, sarà infatti scambiata con la cover "Monkey" realizzata dalla Spoon Graphics.
Si ricorda che Endvolution, CD composto da 10 tracce e distribuito da Andromeda e Masterpiece, è stato masterizzato da Göran Finnberg ai The Mastering Room AB a Göteborg (Svezia) e che nel brano intitolato "The Visionaire Pt.1: Desert Chains/Liberation" é presente un guest-solo dell'amico Christofer Malmström (Darkane).
Un breve teaser di Endvolution è presente a questo indirizzo:
http://www.youtube.com/watch?v=jYQflASq8JY&feature=player_embedded
I SUBLIMINAL CRUSHER sono inoltre orgogliosi di preannunciare l'accordo di esclusiva per l'Italia con l'agenzia di management romana A.L Produzioni, entrando a far parte di un roster d'eccezione in compagnia di Infernal Poetry, Illogicist e Lahmia.
Seguiranno maggiori informazioni al seguente indirizzo:
http://www.myspace.com/alproudly
Si ricordano di seguito i prossimi impegni live della band:
04 mar 2010
Necrodeath + SUBLIMINAL CRUSHER + Malencolie :: "Urban Club", Perugia (ITALY)
14 mar 2010
Infernal Poetry + SUBLIMINAL CRUSHER + Absolute Terror Field + guest :: "Jailbreak", Rome (ITALY)
14 mag 2010
SUBLIMINAL CRUSHER + guests :: "Twilight", Cascina di Fabbrico (RE) (ITALY)
27 ago 2010
VIADANA OPEN AIR 2010 :: Viadana (MN) (ITALY)
Get ready to be crushed.. once again!
http://www.subliminalcrusher.com
http://www.myspace.com/subcrush
http://www.youtube.com/subliminalcrusher
http://www.facebook.com/pages/Subliminal-Crusher/43839156313
Inserita da:
Jerico
il 02.03.2010 - Letture:
903
Articoli Correlati
Live Reports
Spiacenti!

Non sono disponibili Live Reports correlati.
Concerti
Spiacenti!

Non sono disponibili concerti correlati.
Altre News di MetalWave
Notizia Precedente
Notizia Successiva