ELECTROCUTION: data a Roma con tutto ''Inside The Unreal''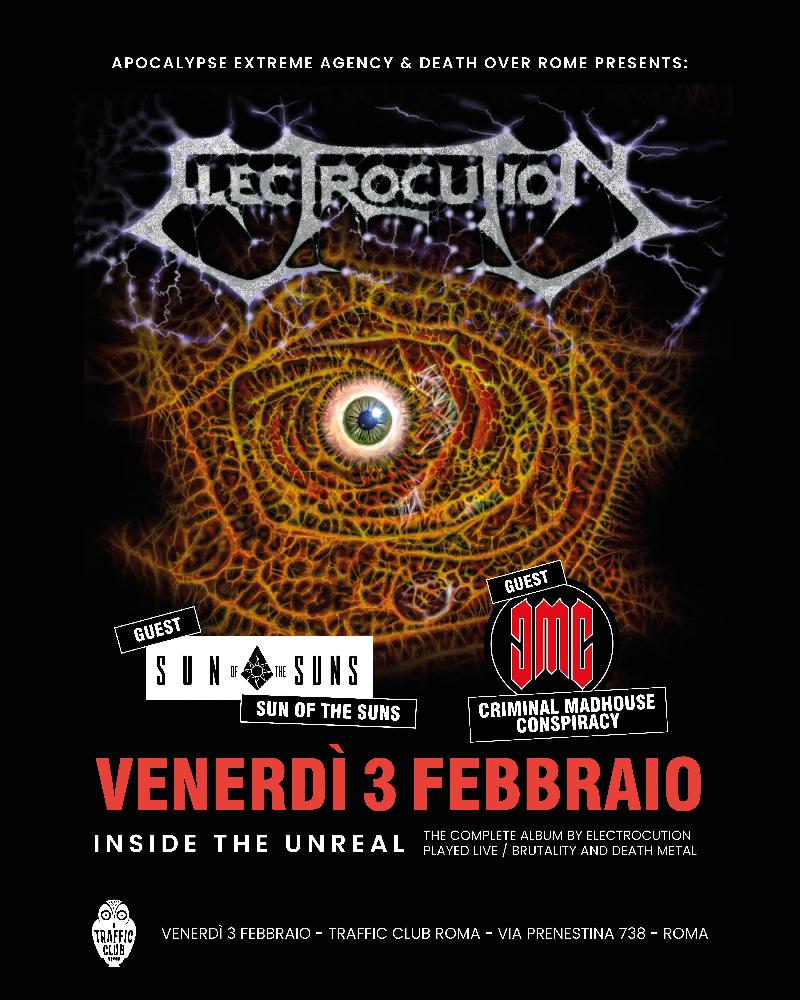 La storica death metal bolognese degli ELECTROCUTION , venerdi 3 febbraio, proporrà il loro capolavoro "Inside The Unreal" suonato interamente dal vivo sul palco del Traffic Live di Roma. Un appuntamento unico, imperdibile, per riascoltare dal vivo uno degli album death metal più rappresentativi del panorama nazionale. Era il 1993 e "Inside The Unreal", in mezzo a tantissime altre uscite di nomi all'epoca più altisonanti, riesce in qualche modo a farsi largo e a diventare un vero e proprio album di culto tra gli amanti del metal estremo novantiano. Brani come Premature Burial, oppure la mina Ghost of Past, finalmente tutte dal vivo in un unico imperdibile live.
Il compito di aprire la serata è stato affidato ai deathsters emiliani SUN OF THE SUNS e ai death/thrashers romani CRIMINAL MADHOUSE CONSPIRACY.
VENERDI' 3 FEBBRAIO 2023
ELECTROCUTION "INSIDE THE UNREAL" Special show
Special guest:
-SUN OF THE SUNS
-CRIMINAL MADHOUSE CONSPIRACY
Presso:
Traffic Live
Via Prenestina 738
Roma
Evento Facebook:
https://www.facebook.com/events/1583980288739457
Apertura Porte ore 21:00
TICKETS
Il costo del biglietto è di 10€
Biglietti Disponibili in cassa la sera del concerto.
Inserita da:
Jerico
il 24.01.2023 - Letture:
143
Articoli Correlati
Interviste
Spiacenti!

Non sono disponibili Interviste correlate.
Live Reports
Spiacenti!

Non sono disponibili Live Reports correlati.
Altre News di MetalWave