AD NOCTEM FESTIVAL: VIDE, HELIKON e altri allo Slaughter di Milano a Gennaio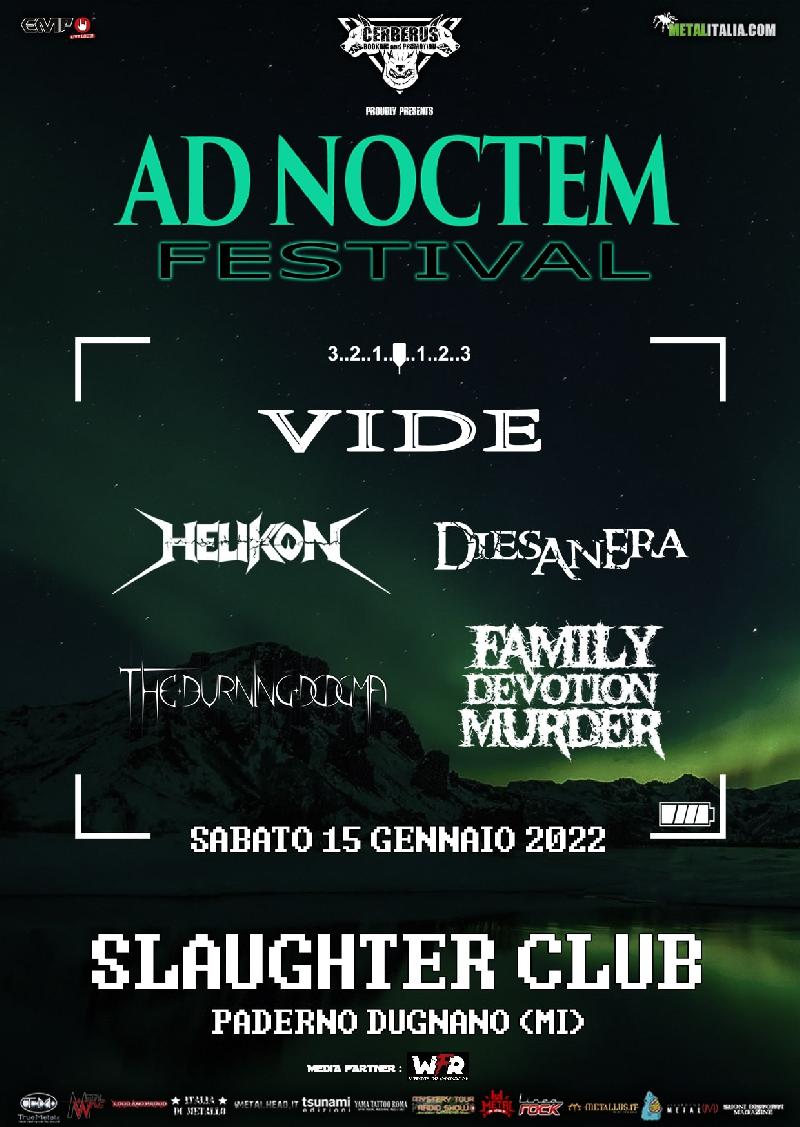 Attiva dal 2018, è diventata un punto di riferimento per la discografia italiana di settore, scoprendo dei veri talenti che in breve tempo hanno conquistato il cuore dei fan ottenendo risultati sopra ogni più rosea aspettativa. Oggi, per celebrare il quarto anno di attività, Ad Noctem Records presenta il festival dedicato alle band del proprio roster che si terrà il 15 Gennaio 2022 presso quello che ormai viene considerato un tempio per l'heavy metal a Milano: lo Slaughter Club.
A capitanare un bill di tutto rispetto troveremo i VIDE, formazione thrash-hardcore, attualmente alle prese con i lavori dedicati ai brani che andranno a comporre la tracklist del successore di "The Achieve Of Hate".
Con loro, un gruppo che si è rivelato uno dei newcomer più interessanti del 2020 grazie al loro album di esordio "Myth & Legend", i trasher HELIKON.
Nella parte centrale della serata troveremo i DIESANERA. per poi passare alla furia death metal dei THE BURNING DOGMA, capitanati dalla brava e carismatica Jade Neri.
Ai FAMILY DEVOTION MURDER, combo veneto nato dalle ceneri dei FLASH TERRORIST, il compito di infiammare gli animi dei presenti.
AD NOCTEM FESTIVAL
Sabato 15 Gennaio 2022
VIDE
HELIKON
DIESANERA
THE BURNING DOGMA
FAMILY DEVOTION MURDER
Slaughter Club – Paderno Dugnano (MI)
http://www.facebook.com/SlaughterClub
Evento Fb Clicca
https://www.facebook.com/events/212950041003075
Ingresso 10€
AD NOCTEM RECORDS
http://www.adnoctemrecords.com
http://www.facebook.com/adnoctemrecords
Official Partner:
WFR
http://www.facebook.com/wfrsupportstheunderground
http://www.instagram.com/we_fuckinrock
Cerberus Booking
http://www.cerberusbooking.com
http://www.facebook.com/cerberus.booking
http://www.instagram.com/cerberus_booking
Il locale è collegato dalla superstrada Milano Meda Milano-Meda (Uscita Paderno Dugnano), dopo lo svincolo A4. Con i mezzi pubblici è facilmente raggiungibile data la vicinanza della stazione.
Inserita da:
Jerico
il 16.12.2021 - Letture:
639
Articoli Correlati
Live Reports
Spiacenti!

Non sono disponibili Live Reports correlati.
Concerti
Spiacenti!

Non sono disponibili concerti correlati.
Altre News di MetalWave