AINUR: il video di ''Apocalypse'' dal nuovo disco ''War Of The Jewels''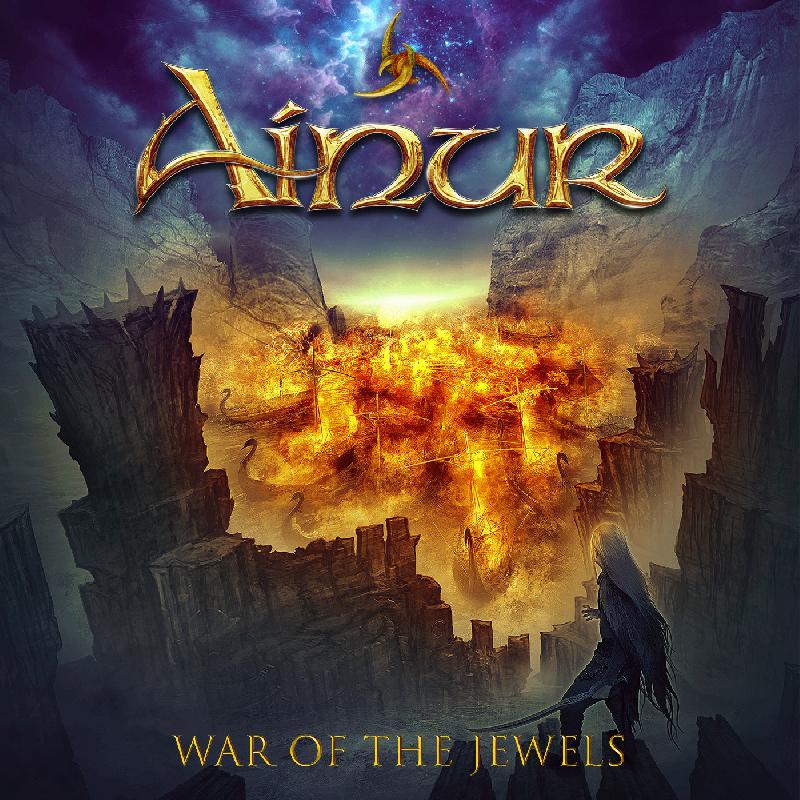 La Progressive Rock Orchestra di ispirazione Tolkieniana AINUR pubblica il nuovo video "Apocalypse"
Ispirati dalla mitologia Tolkieniana, la prog orchestra AINUR ha trasposto i capolavori di J.R.R. Tolkien in musica da oltre due decenni. Il loro nuovo album "War of The Jewels" disponibile da oggi, 19 Marzo 2021 in Digipak Cd / Digital Download / Streaming
CD:
http://bit.ly/Ainur_Digipak
DIGITAL:
https://smarturl.it/WarOfTheJewels
Per celebrare l'uscita di "War Of The Jewels" la band pubblica il nuovo singolo e video di "Apocalypse", brano di chiusura dell'album
VIDEO -
https://youtu.be/ca59N60FvnI
SPOTIFY -
https://spoti.fi/30ZJCFz
Il processo compositivo di "War of The Jewels" è stato molto lungo. E' partito nel 2009 (o anche prima) ed è terminato meno di un anno fa. Gli Ainur vedono questo come l'album della rinascita. Hanno lavorato, composto e arrangiato incessantemente per creare il tributo a Tolkien migliore che potessero fare.
"War Of The Jewels" uscirà in versione speciale in Doppio Vinile per il Record Store Day a Giugno 2021
Pre Ordinabile sul Rockshots Store
Gatefold Vinyl:
http://bit.ly/Ainur_Vinyl
Track Listing:
1. Fate Disclosed ft. Ted Nasmith (2:08)
2. Wars Of Beleriand (6:58)
3. Hell of Iron (5:46)
4. Wars Begin (7:01)
5. Kinslaying (The First) ft. Ted Nasmith (7:43)
6. Grinding Ice (8:27)
7. Battle Under The Stars ft. Derek Sherinian (4:39)
8. Spirit Of Fire ft. Roberto Tiranti (Labyrinth) & Ted Nasmith (7:17)
9. The Broidress (3:43)
10. The Great Battle (Or The War Of Wrath) ft. Ted Nasmith (11:58)
11. Apocalypse (4:24)
12. Apocalypse (Acoustic Bonus Track) (3:46) [Digital only]
Album Length: 1:13:55
Artwork by Felipe Machado (Blind Guardian, Axel Rudi Pell, etc)
Ainur is:
Luca Catalano - Composer, Guitars, Vocals
Marco Catalano - Composer, Drums, Vocals
Alex Armuschio - Composer, Keys, Lead Vocals
Max Clara - Lead Vocals
Roberta Malerba - Lead Vocals
Elena Richetta - Lead Vocals
Giuseppe Ferrante - Bass, Contrabass
Luca Marangoni - Violin
Carlo Perillo - Viola
Daniela Lorusso - Cello
Cristiano Blasi - Flutes
Chiara Marangoni - Horns
Wilma Collo - Lyrics
Discography:
2006 - From Ancient Times
2007 - Children of Hurin
2009 - Lay of Leithian
2012 - Progressive Rock Night (DVD)
2013 - The Lost Tales
2014 - There and Back Again (single)
2019 - Fall of Gondolin (single)
2020 - Shadow from the East (single)
2021 - War of the Jewels
For more info:
Rockshots.eu
Ainur.it
Facebook.com/ainurprogrockorchestra
Instagram.com/ainurprogrockorchestra
Inserita da:
Jerico
il 19.03.2021 - Letture:
305
Articoli Correlati
Interviste
Spiacenti!

Non sono disponibili Interviste correlate.
Live Reports
Spiacenti!

Non sono disponibili Live Reports correlati.
Concerti
Spiacenti!

Non sono disponibili concerti correlati.
Altre News di MetalWave