EMBRACE OF SOULS: uscito ''The Number Of Destiny''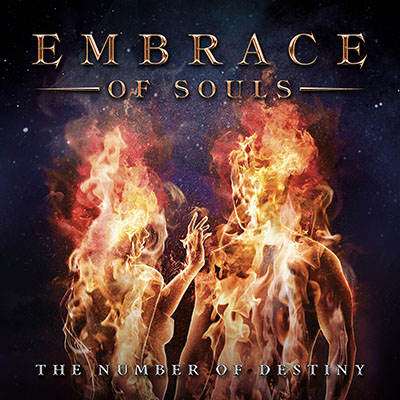 Esce oggi su tutti gli stores digitali e fisici, in formato DIGIPACK, il primo album degli EMBRACE OF SOULS : "The Number Of Destiny" L'album è stato preceduto dal singolo di From The Sky e da due video: "From The Sky" e dal brano che da il titolo all'album "The Number Of Destiny", che hanno raccolto entrambi ottimi consensi, ma con la presentazione del disco viene presentato anche il video lyric della coinvolgente e 'magica' "In The Castle".
Gli Embrace of Souls, sono il gruppo nato dalla mente di Michele Olmi. L'idea di base era quella di costruire una band di power metal sinfonico mettendo insieme, tra membri fissi ed ospiti, tutto il meglio del power italiano.
La prima scelta è stata quella di reclutare la voce dei Rhapsody of Fire, Giacomo Voli che ha subito accettato di buon grado la sfida. A loro si sono uniti Giovanni Paolo Galeotti alla chitarra, Xavier Rota dei Chronosfear al basso e Davide Scuteri alle tastiere.
ma non è tutto..... tantissimi ospiti hanno partecipato :
Michele Guaitoli dei Temperance e Vision From Atlantis
Ivan Giannini dei Vision Divine
Morby, dei Domine
Edward De Rosa,
Valentino Francavilla dei White Skull,
Marco Angelo,
Roberto Tiranti, dei Labyrinth e New Trolls
Danilo Bar,
Edoardo Taddei ,
Michele " Dr.Viossy" Vioni
Tracklist di THE NUMBER OF DESTINY (FEB 2021):
01- ON THE WAY FROM THE PAST
02- NEW_HOPE
03- FROM THE SKY singolo rel date 11-12-20
04- IN THE CASTLE Video Rel Date 19-02-21
05 -SHAPE YOUR FATE
06- MY DREAMS
07- PRISON
08- WE'LL MEET AGAIN
09- TO THE END
10- THE NUMBER OF DESTINY Video rel. date 19-01-21
11- WELCOME TO MY HELL
12- IL NUMERO MISTICO
Links:
http://www.elevate2records.com
https://www.facebook.com/embraceofsouls
Video Precedenti :
https://youtu.be/51xEuVMrzj8
https://youtu.be/Sr3YPsLgJsY
Inserita da:
Jerico
il 20.02.2021 - Letture:
416
Articoli Correlati
Interviste
Spiacenti!

Non sono disponibili Interviste correlate.
Live Reports
Spiacenti!

Non sono disponibili Live Reports correlati.
Concerti
Spiacenti!

Non sono disponibili concerti correlati.
Altre News di MetalWave
Notizia Precedente
Notizia Successiva