FLESHGOD APOCALYPSE: pubblicano il playthrough di batteria di ''Thru Our Scars''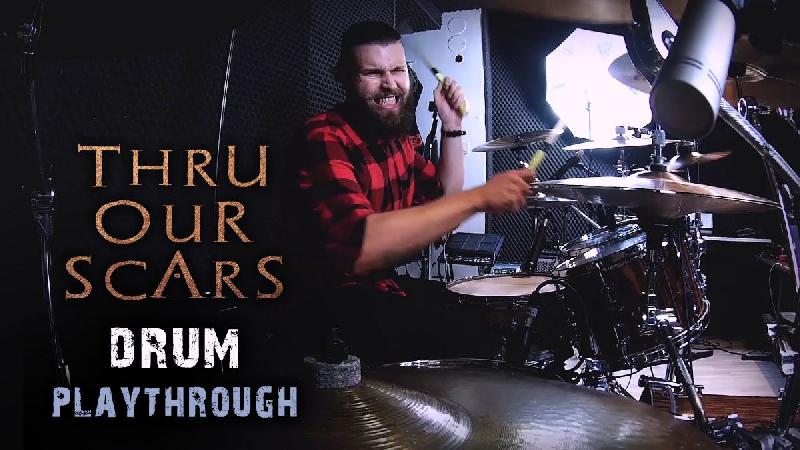 Oggi, la più vecchia uscita degli orchestral death metaller prende nuova vita: i FLESHGOD APOCALYPSE pubblicano un playthrough di batteria del brano "Thru Our Scars", tratto dal primo EP della band "Mafia", del 2010.
Guarda il video qui:
https://youtu.be/SxMusDQ5ZLk
La band dichiara,
"Per celebrare il decimo anniversario di 'Mafia', abbiamo scelto una delle nostre più iconiche e impegnative canzoni per il prossimo playthrough: 'Thru Our Scars'. Questa volta è Eugene Ryabchenko a fare gli onori di casa. Godetevela!"
"Veleno Across Europe Tour 2020"
w/ EX DEO
01.10. D Übach-Palenberg - Rockfabrik
02.10. NL Nijmegen - Doornroosje
03.10. F Paris - Petit Bain
04.10. UK London - The Underworld Camden
06.10. F Nantes - Le Ferrailleur
07.10. E Bilbao - Stage Live
08.10. P Porto - Hard Club
09.10. P Lisbon - RCA Club
10.10. E Madrid - Sala Caracol
11.10. E Barcelona - Sala Bóveda
12.10. F Toulouse - Le Metronum
15.10. I Retorbido (PV) - Dagda Live Club
16.10. CH Sion - Le Port Franc
17.10. CH Schaffhausen - Kammgarn
18.10. D Leipzig - Hellraiser
20.10. D Munich - Backstage
21.10. SK Košice - Collosseum Club
22.10. H Budapest - A38
23.10. BG Sofia - Mixtape 5
24.10. RO Bucharest - Quantic Club
25.10. RO Cluj-Napoca - Flying Circus
27.10. CZ Prague - Futurum Music Bar
28.10. PL Poznan - u Bazyla
29.10. PL Warsaw - Klub Proxima
30.10. LT Vilnius - Vakaris
31.10. LV Riga - Melnā Piektdiena
01.11. FIN Helsinki - Ääniwalli
04.11. N Oslo - Røverstaden
08.11. B Roeselare - Trax
11.11. D Weinheim - Café Central
12.11. D Berlin - Musik & Frieden
13.11. D Essen - Turock
14.11. F Pagney-derrière-Barine - Chez Paulette
15.11. NL Leiden - Gebr. de Nobel
Altro su Veleno:
"Sugar" OFFICIAL MUSIC VIDEO:
https://www.youtube.com/watch?v=Xmq3iyW02b8
"Carnivorous Lamb" OFFICIAL LYRIC VIDEO:
https://www.youtube.com/watch?v=3RMEoOl80SM
"Healing Through War" OFFICIAL LIVE VIDEO:
https://www.youtube.com/watch?v=mviUmbrvAP0
"Worship And Forget" OFFICIAL VISUALIZER:
https://youtu.be/Rx67BcnDk9c
"The Fool" OFFICIAL LIVE VIDEO:
https://youtu.be/yYJ4UmxGrIk
Trailer #1 - About The Song "Sugar":
https://www.youtube.com/watch?v=2lXTqJLIuxI
Trailer #2 - About The Veleno Album Artwork:
https://www.youtube.com/watch?v=EXWn0yobSuY
Trailer #3 - The 2019 Band Line-Up:
https://www.youtube.com/watch?v=PcttT-yKpc0
Trailer #4 - Veleno: Writing And Recording:
https://www.youtube.com/watch?v=23xBJa8q52M
Trailer #5 - About The Song "Carnivorous Lamb":
https://www.youtube.com/watch?v=VwUjw63xG1A
Trailer #6 - The Meaning Of Veleno:
https://www.youtube.com/watch?v=Mp4YKnC71Xw
Trailer #7 - What Fans Can Expect From Veleno:
https://www.youtube.com/watch?v=Q7EEbTXNU4c
Trailer #8 - Veleno: About An Evening in Perugia Bonus Blu-ray:
https://youtu.be/FFhGr8mZtKc
Trailer #9 - Drummer David Folchitto and Guitarist Fabio Bartoletti:
https://youtu.be/pAHI80by9JY
"Veleno" segna il primo disco dei FLESHGOD APOCALYPSE in tre anni, dall'uscita del loro acclamato disco "King" (2016). La 'parte metal' di "Veleno" è stata registrata a Roma al Bloom Recording Studio e Kick Studio con il collaboratore di lunga data Marco Mastrobuono, mentre la 'parte orchestrale' – il cast corale – è stato registrato al Musica Teclas Studio di Perugia. I Fleshgod Apocalypse hanno poi portato il loro lavoro al nominato ai Grammy Jacob Hansen (VOLBEAT, THE BLACK DAHLIAMURDER, EPICA) agli Hansen Studios in Danimarca per il mix e il master. L'intera produzione di "Veleno" ha richiesto, secondo Paoli, circa tre mesi. L'artwork dell'album è stato creato da Travis Smith (AVENGED SEVENFOLD, OPETH, KATATONIA).
Maggiori informazioni:
http://www.Fleshgodapocalypse.com
https://www.facebook.com/fleshgodapocalypse/
https://twitter.com/FApocalypse
https://www.instagram.com/fleshgodofficial
https://www.youtube.com/FleshgodApocalypse
https://www.nuclearblast.com
Inserita da:
Jerico
il 27.05.2020 - Letture:
378
Articoli Correlati
Live Reports
Concerti
Spiacenti!

Non sono disponibili concerti correlati.
Altre News di MetalWave