STIGE FEST 2020: tutti i dettagli del festival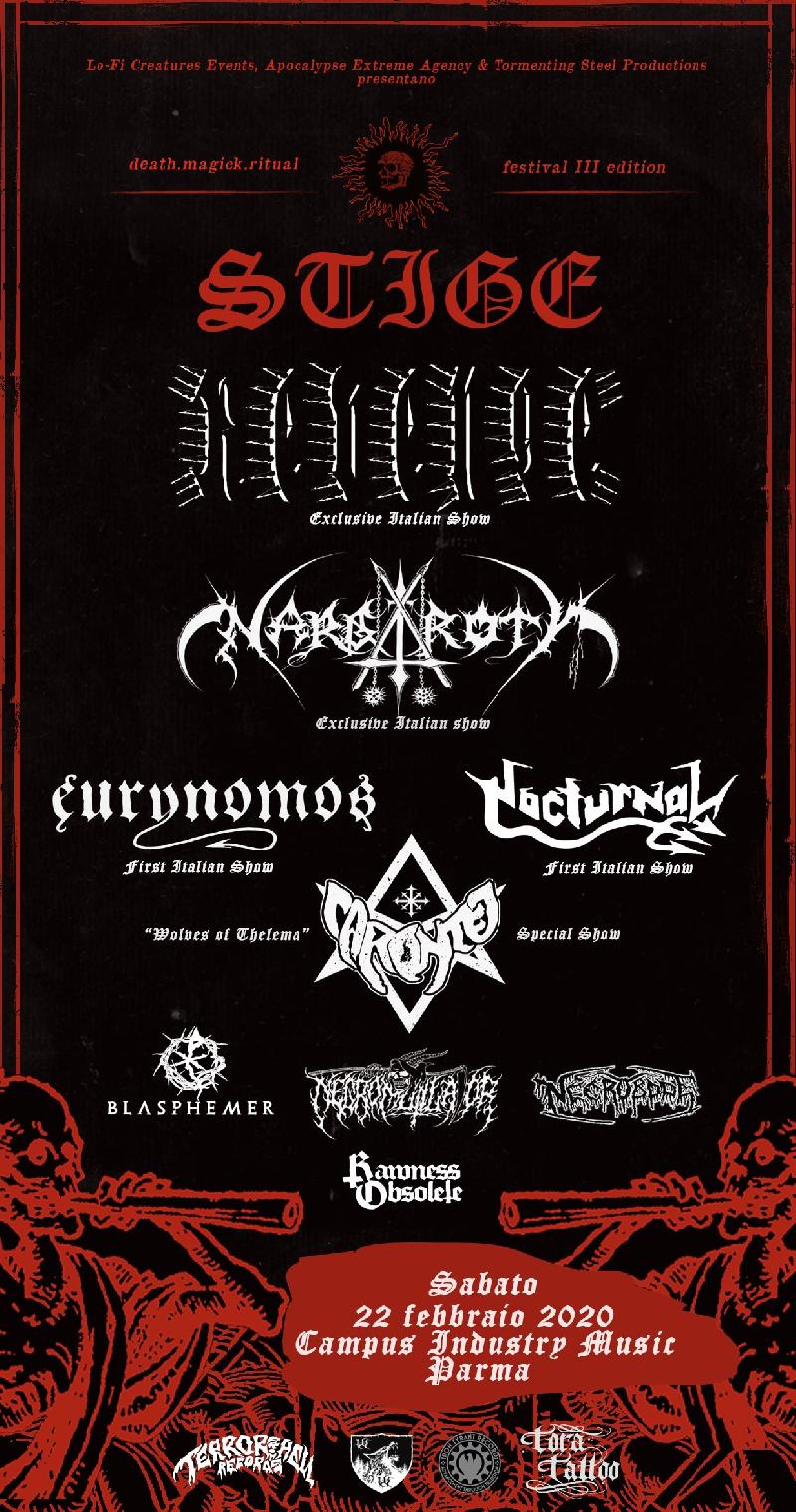 E tutto confermato per la terza edizione dello STIGE FEST, che si terrà Sabato 22 febbraio presso il Campus Industry Music di Parma.
Dopo l'annuncio della line up ufficiale, siamo lieti di comunicare gli orari ufficiali del festival:
00:00- REVENGE
22:40- NARGAROTH
21:35- NOCTURNAL
20:30- CARONTE
19:30- EURYNOMOS
18:30- BLASPHEMER
17:40- NECROMUTILATOR
16:50- NECROBODE
16:00- RAWNESS OBSOLETE
Apertura porte ore 15:00
Ad arricchire la kermesse, sarà presente in esclusiva per STIGE FEST , "Violent Overture- The Curse Of Paolo Girardi", per la prima volta verranno esposte al pubblico in un area dedicata alcune tra le opere del maestro PAOLO GIRARDI, conosciuto per il suo stile inconfondibile e per avere realizzato le copertine di tantissime band nella scena metal.
Area Food, Area Merchandise, Metal Market presenti.
SABATO 22 FEBBRAIO 2020
STIGE FEST III: Death. Magick. Ritual.
Con:
REVENGE (Exclusive Italian Show)
NARGAROTH (Exclusive European Show-Unica Data In Europa)
NOCTURNAL (First Italian Show ever)
CARONTE ( Exclusive Relase Party "Wolves of Thelema").
EURYNOMOS (Dark and Heavy metal Mayhem – First Italian Show)
BLASPHEMER (Blackened Death Metal)
NECROMUTILATOR (Black Thrash Death)
NECROBODE (dal Portogallo, prima volta in Italia)
RAWNESS OBSOLETE (black metal)
Presso:
Campus Industry Music – Largo Simonini – Parma
Biglietti:
Prezzo in cassa €48
NESSUNA TESSERA RICHIESTA
Evento Facebook:
https://www.facebook.com/events/2359015741021064/
OFFICIAL PARTNERS:
Tora Tattoo
Terror From Hell Records
Iron Tyrant Records
Per info:
Whatsapp (no chiamate-solo messaggi scritti, no vocali) +39 3479286157
Mail: stigefest@gmail.com
LO-FI CREATURES EVENTS
http://www.facebook.com/loficreatures/
APOCALYPSE EXTREME AGENCY
http://www.apocalypseextremeagency.com
TORMENTING STEEL PRODUCTIONS
http://www.facebook.com/tormentingsteelproductions/
CAMPUS INDUSTRY MUSIC
http://www.campusindustrymusic.com
Inserita da:
Jerico
il 22.02.2020 - Letture:
704
Articoli Correlati
Altre News di MetalWave