STIGE FEST 2020: annunciata la line up ufficiale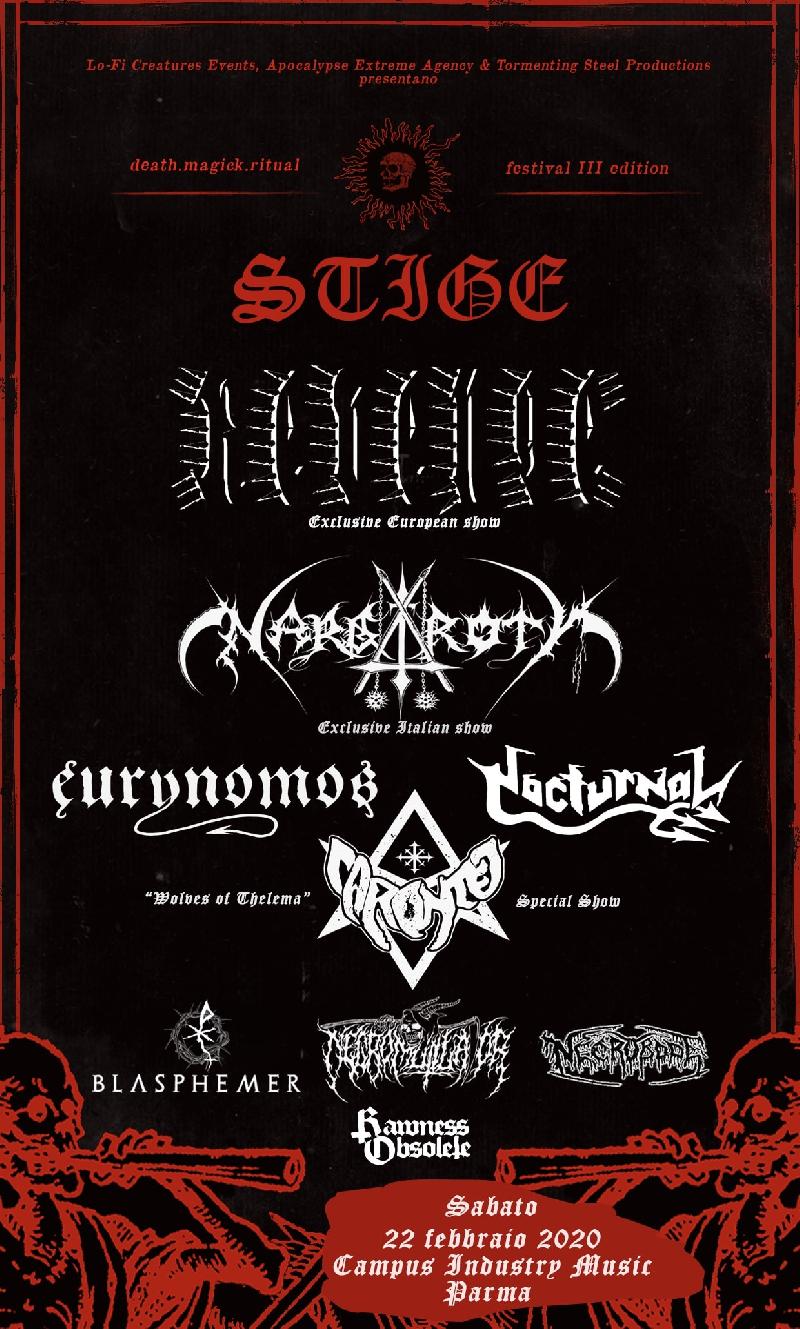 Si arricchisce ulteriormente la line up della terza edizione dello STIGE FEST, che si terrà a Parma sabato 22 Febbraio presso il Campus Industry Music.
Dopo l'annuncio in esclusiva europea di REVENGE, NARGAROTH, e ai già citati CARONTE e NECROBODE, si aggiungono alla line up, i tedeschi NOCTURNAL ed EURYNOMOS per la prima volta in assoluto in Italia. Gli italiani BLASPHEMER, NECROMUTILATOR e RAWNESS OBSOLETE vanno a completare il bill del festival.
Area Food, Area Merchandise, Metal Market presenti.
SABATO 22 FEBBRAIO 2020
STIGE FEST III: Death. Magick. Ritual.
Con:
REVENGE (Exclusive European show-Unica Data In Europa)
NARGAROTH (Exclusive European show-Unica Data In Europa)
NOCTURNAL (First Italian Show ever)
CARONTE ( Exclusive Relase Party "Wolves of Thelema").
EURYNOMOS (Dark and Heavy metal Mayhem- First Italian Show)
BLASPHEMER (Blackened Death Metal)
NECROMUTILATOR (Black Thrash Death)
NECROBODE ( dal Portogallo, prima volta in Italia)
RAWNESS OBSOLETE (Black metal)
Presso:
Campus Industry Music
Largo Simonini
Parma
BIGLIETTI:
Il costo del biglietto è di € 43,70 più diritti di prevendita. Prezzo in cassa €48
Le prevendite sono disponibili attraverso i circuiti autorizzati e sul sito di TICKETONE.
Evento Facebook:
https://www.facebook.com/events/2359015741021064/
Per info:
Whatsapp (no chiamate-solo messaggi scritti, no vocali) +39 3479286157
Mail: stigefest@gmail.com
LO-FI CREATURES EVENTS
http://www.facebook.com/loficreatures/
APOCALYPSE EXTREME AGENCY
http://www.apocalypseextremeagency.com
TORMENTING STEEL PRODUCTIONS
http://www.facebook.com/tormentingsteelproductions/
CAMPUS INDUSTRY MUSIC
http://www.campusindustrymusic.com
A breve nuovi ulteriori dettagli.
Inserita da:
Jerico
il 07.01.2020 - Letture:
754
Articoli Correlati
Altre News di MetalWave
Notizia Precedente
Notizia Successiva