SUMMER OF THE DEAD FEST: tutti i dettagli del festival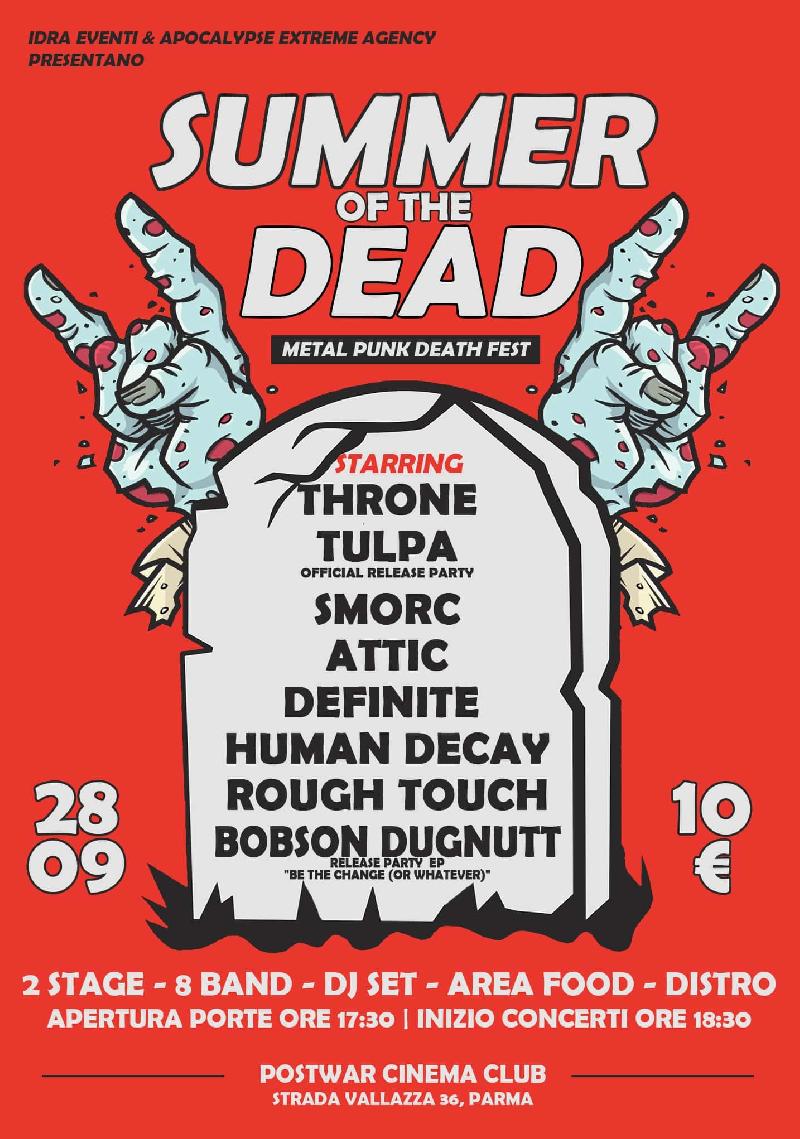 Manca pochissimo al SUMMER OF THE DEAD- METAL PUNK DEATH FEST, che si terrà Sabato 28 settembre presso il Postwar Cinema Club di Parma a partire dalle 17:30. 2 palchi, area food & drink, merchandise e tanto altro ancora per una giornata all'insegna della musica underground e del divertimento.
Di seguito i dettagli della giornata:
SUMMER STAGE
18:30 - ROUGH TOUCH
19:50 - DEFINITE
21:10 - BOBSON DUGNUTT
22:30 - SMORC
DEATH STAGE
19:10 - HUMAN DECAY
20:30 - ATTIC
21:50 - TULPA
23:15 - THRONE
Apertura Porte ore 17:30
Al termine dei concerti Dj set fino a tarda notte.
Al Postwar Cinema Club potrete cenare e scegliere tra una vasta selezione di birre e cocktails, il tutto a prezzi popolari.
SABATO 28 SETTEMBRE
SUMMER OF THE DEAD - METAL PUNK DEATH FEST
Presso:
Postwar Cinema Club
Strada Vallazza 36
Parma (PR)
Ingresso 10 euro alla cassa
NESSUNA TESSERA RICHIESTA
Evento Facebook:
https://www.facebook.com/events/409104246422210/
INFO:
http://www.apocalypseextremeagency.com
Inserita da:
Jerico
il 27.09.2019 - Letture:
419
Articoli Correlati
Altre News di MetalWave