JUMPSCARE: data di uscita e dettagli del prossimo album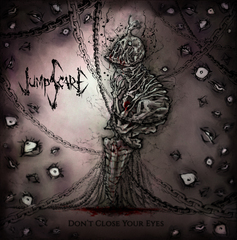 Il quintetto melodic death metal partenopeo Jumpscare ha appena rivelato i dettagli ufficiali riguardo la loro prossima Release prevista per questo autunno
Di seguito sono svelati al pubblico la copertina dell'album, la tracklist e tutte le informazioni riguardo il loro futuro debut album
Il nuovo sound sarà un mix tra il melodeath svedese prendendo di riferimento gruppi come In Flames, Dark Tranquillity, Soilwork e At The Gates, ma ci sarano con moltissime influenze della scena moderna statunitense quali Killswitch Engage, As I Lay Dying, Lamb Of God, Make Them Suffer e Winds Of Plague.
Al livello concettuale l'album sarà composto da otto tracce , le liriche si basa sul decadimento della società moderna e su come quest'ultimo si rifletta nelle menti delle persone che vivono in uno stato di alienazione perenne. L'invito del gruppo è di riflettere su tutte le cose marce che ci circondano e di reagire a tutto ciò, cercando di far partecipare l'ascoltatore a trecentosessanta gradi.I temi toccano tutte le vicissitudini della conoscenza umana e gli aspetti negativi della società e la loro influenza negativa su ciascuno di noi senza toccare temi propaganistici fini a se stessi ma lanciando un messaggio di rinascita e di consapevolezza del proprio io.
L'album uscirà il 7 Ottobre 2019 mentre sarà possibile pre-ordinare la copia fisica dell'album già da sabato 14 settembre.
Di seguito viene rivelata anche la tracklist :
1) Dead Bodies
2) Don't Close Your Eyes
3) Earth Decay
4) Falling Tears
5) Mate Feed Kill Repeat
6) Paralyzed
7) Seventh Circle
8) Sickness
Jumpscare logo and album cover by Lina Mussolino
NEW SINGLE DEAD BODIES OUT ON SEPT. 23
WATCH THE TRAILER NOW :
https://youtu.be/Nj9-ihfzaNM
More info at :
facebook.com/jumpscare.band
instagram.com/jumpscare_band_official
jumpscareband.bandcamp.com
Inserita da:
Jerico
il 12.09.2019 - Letture:
651
Articoli Correlati
Interviste
Live Reports
Spiacenti!

Non sono disponibili Live Reports correlati.
Concerti
Spiacenti!

Non sono disponibili concerti correlati.
Altre News di MetalWave
Notizia Precedente
Notizia Successiva