FESTA BIKERS 2019: il bill completo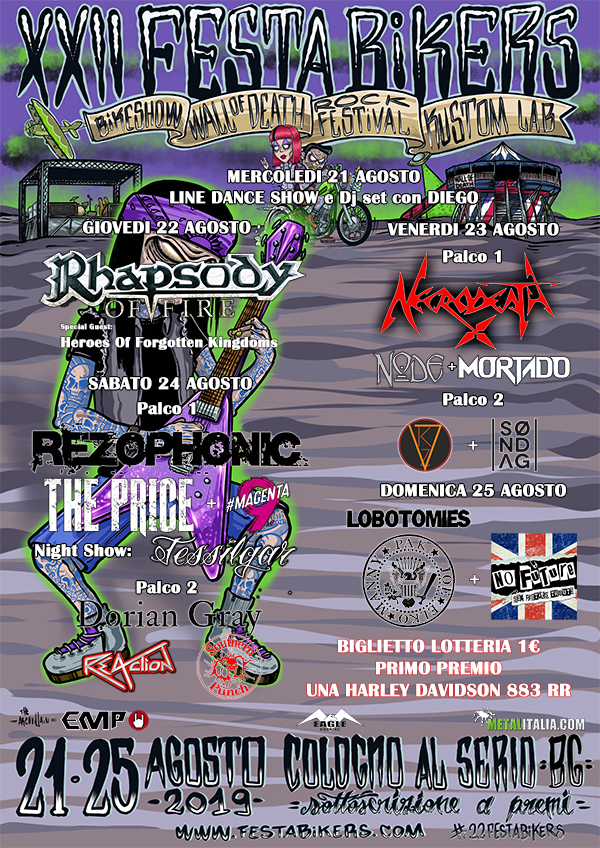 Anche quest'anno saranno 5 giornate piene di Rock'n'Roll quelle della Festa Bikers di Cologno al Serio (Bg). Con una variegata programmazione divisa su due palchi, spaziando dal power metal dei Rhapsody Of Fire, fino al rock dei Rezophonic passando per il black metal dei Necrodeath.
Quella del 2019 sarà un'edizione completamenete italiana di cui vi porponiamo il bill completo.
Ma prima parlando di novità, proprio i Necrodeath , appena elogiati da Phil Anselmo direttamente dal palco del Rock The Castle come precursori del Black Metal, avranno come ospite l'oscuro performer Jacob Angel, la cui presenza renderà lo spettacolo unico ed imperdibile.
La Programmazione di Sabato 24 Agosto del Palco Centrale, si completa con i #MAGENTA9 : nuovo progetto bolognese di rock italiano: bolognese in tutti sensi, sia come scuola che come approccio alle sonorità, con un sound accattivante e testi originali.
Lo spettacolo notturno del Sabato sera, semrpre sul Palco centrale, sarà affidato ai divertenti e genuini TESSILGARD, tribute band hard'n'nHeavy 80/90.
Per quanto riguarda il Palco nell'Area Costruttori, sarà tutto votato al divertimento, cominciando da Venerdi 23 Agosto con i piacentini SØNDAG, e la tribute 70/80/90 dei KZV.
Sabato 24 Agosto, sempre sul palco Costruttori ad aprire la serata saranno i SOUTHERN PUNCH, pregetto di Franz "Overkill" Massara (fratello maggiore del più noto Tommy Massara degli Extrema) che spiegheranno al pubblico della Festa la loro visione dell'hard rock a tinte southern e stoner.
Dopo di loro, i thrasher milanesi REACTION : trio old school, che dopo la pubblicazione del full lenght "Kill The Parasite", si apprestano ora alla pubblicazione di un nuovo EP.
La chiusura della serata è affidata alla giovane band bergamasca dei DORIAN GRAY.
Domenica 25 Agosto sul Palco centrale si esibiranno i NO FUTURE (tributo a i Sex Pistols) ed ai LOBOTOMIES (tributo ai Romones).
Di seguito la programmazione completa dei 5 giorni di Festa Bikers
FESTA BIKERS 2019 - XXII EDIZIONE
COLOGNO AL SERIO (Bg)
Dal 21 al 25 Agosto
Mercoledi 21 Agosto
Palco Centrale
COUNTRY ENTRATEINMENT + DJ SET
Glovedi 22 Agosto
Palco Centrale
RHAPSODY OF FIRE + HEROS OF FORGOTTEN KINGDOMES
Venerdi 23 Agosto
Palco Centrale
NECRODEATH + NODE + MORTADO
Palco Costruttori
KZV + SØNDAG
Sabato 24 Agosto
Palco Centrale
REZOPHONIC + THE PRICE + #MAGENTA9
Night show : TESSILGAR
Palco Costruttori
DORIAN GRAY + REACTION + SOUTHERN PUNCH
Domenica 25 Agosto
LOBOTOMIES(tribute Ramones) + NO FUTURE(Tribute Sex Pistols)
Evento Facebook :
https://www.facebook.com/events/2234335166643447
Inserita da:
Jerico
il 30.07.2019 - Letture:
1267
Articoli Correlati
Altre News di MetalWave
Notizia Precedente
Notizia Successiva