OBSCURA DOOM FEST-SUMMER EDITION: con COVEN, DEMON HEAD, OUR SURVIVAL DEPENDS ON US e altri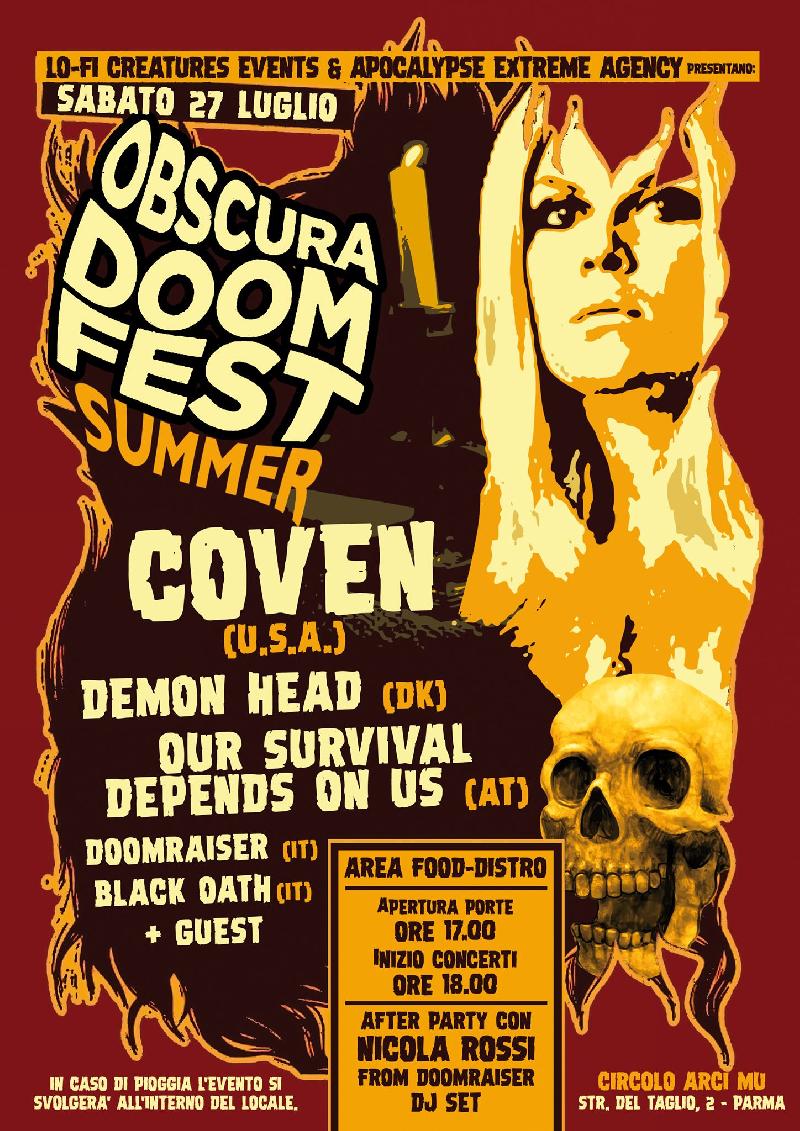 Apocalypse Extreme Agency e Lo-Fi Creatures presentano OBSCURA DOOM FEST-SUMMER EDITION, che si terrà sabato 27 luglio nella location estiva del Circolo Mu di Parma. Sarà una vera e propria kermesse musicale con pezzi da novanta della scena doom mondiale con nomi storici e non della scena italiana ed internazionale.
Gli headliner saranno i COVEN, della carismatica Jinx Dawson che scenderanno per la prima volta in assoluto sul suolo Italiano. Per questa occasione la band proporrà uno show incentrato su "Witchcraft Destroys Minds and Reaps Souls", il loro primo disco del 1969, che quest'anno compie 50 anni.
Tra il profumo dell'incenso ai piedi di altari innalzati all'occult rock, tornano i danesi DEMON HEAD, gruppo di Diabolic Rock (come amano definirsi) , attualmente in promozione con il loro ultimo lavoro in studio "Hellfire Ocean Void".
Un'altra conferma sono i doomsters OUR SURVIVAL DEPENDS ON US, five-piece di Salisburgo attivo da una quindicina d'anni e giunto al quarto lavoro "Melting The Ice In The Hearts Of Men" uscito lo scorso febbraio per Van Records.
Prima di loro ci saranno i romani DOOMRAISER, e i milanesi BLACK OATH.
Area Food, Area Merchandise, Metal Market presenti.
A breve verranno comunicati ulteriori dettagli.
SABATO 27 LUGLIO
OBSCURA DOOM FEST-SUMMER EDITION
Con:
COVEN (per la prima volta in Italia- Special Show)
DEMON HEAD -(DK- Exclusive Show)
OUR SURVIVAL DEPENDS ON US -(AUS- Exclusive Show)
DOOMRAISER
BLACK OATH
+ Guest
Presso:
Circolo Arci Mu
Strada Del Taglio 2
Parma (PR)
Evento Facebook:
https://www.facebook.com/events/2377143939206502/
BIGLIETTI:
30,00 euro alla porta
EARLY BIRD TICKET:
Fino al 27 maggio puoi acquistare il tuo biglietto a soli 20,00 euro.
Scrivi una mail a loficreatures@gmail.com per avere il tuo biglietto ad un prezzo speciale.
Durante la giornata sarà possibile entrare ed uscire da locale senza limiti di orario.
In caso di pioggia l'evento si terrà all'interno del locale.
INFO:
APOCALYPSE EXTREME AGENCY
http://www.apocalypseextremeagency.com
LO-FI CREATURES EVENTS
http://www.facebook.com/loficreatures
Inserita da:
Jerico
il 25.05.2019 - Letture:
474
Articoli Correlati
Altre News di MetalWave
Notizia Precedente
Notizia Successiva