RHAPSODY OF FIRE: nuovo album in uscita e signing session al Mariposa Duomo di Milano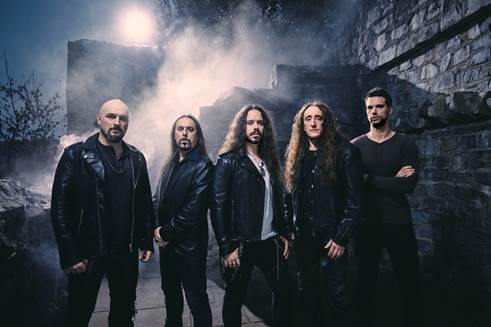 Esce oggi il nuovo studio album dei RHAPSODY OF FIRE "The Eighth Mountain" AFM Records/ Soulfood e distribuito in Italia da Audioglobe. Per l'occasione è ancora disponibile un'edizione limitata a sole 150 copie in doppio LP color argento direttamente acquistabile dal mailorder di Audioglobe a questa pagina:
https://www.audioglobe.net/pre-ordine-rhapsody-of-fire-the-eighth-mountain-2lp-silver-ltd/?fbclid=IwAR0KQcZjRKVNmt9Tg2FhvJmra-_kSNIvRuoWWK6ugjXCSdlFcHpW8P0fdkM
la band al completo sarà al Mariposa Duomo di Milano (Galleria SS Radegonda) alle ore 17.00 di Martedì 12 Marzo prima della loro data live al Legend Club per autografare i nuovi cd e incontrare i fans.. non mancate!
Qui sotto alcune quotes dei magazine italiani più importanti:
"The Eighth Mountain si lascia ascoltare dall'inizio alla fine, ma soprattutto in ogni sua parte riesce a regalare grandi emozioni, proprio come i Rhapsody dei tempi d'oro ci avevano abituati."
ROCK HARD ITALY – Andrea Raffaldini (SOUNDCHECK 7.5-7.5-9 su 10 Febbraio)
"Rispettando l'amore per metal e musica classico-barocco-rinascimentale, 'The Eighth Mountain' apre una nuova, emozionante saga dei Rhapsody Of Fire."
CLASSIC ROCK ITALIA - Luca Fassina (voto 8 su 10 Marzo)
"i Rhapsody Of Fire campioni indiscussi del Symphonic Metal"
ROCKERILLA – Iacopo Meille
"I Rhapsody Of Fire non sorprendono, anzi, confermano il loro amore per la mitologia, per l'ispirazione fantasy e per le orchestrazioni curate con The Eighth Mountain, primo capitolo di una saga già annunciata tratta da The Nephilim's Empire"
GUITAR CLUB – Patrizia Marinelli
"Un disco ottimo, che rimane fedele al più classico power metal neoclassico e, al contempo, inietta in esso una fresca dose di ispirazione"
CLASSIX METAL - Rino Gissi
Inserita da:
Jerico
il 22.02.2019 - Letture:
339
Articoli Correlati
Live Reports
Spiacenti!

Non sono disponibili Live Reports correlati.
Concerti
Spiacenti!

Non sono disponibili concerti correlati.
Altre News di MetalWave
Notizia Precedente
Notizia Successiva