DARKNESS/OLTRETOMBA: lo split CD ''Horned, Winged and Grim''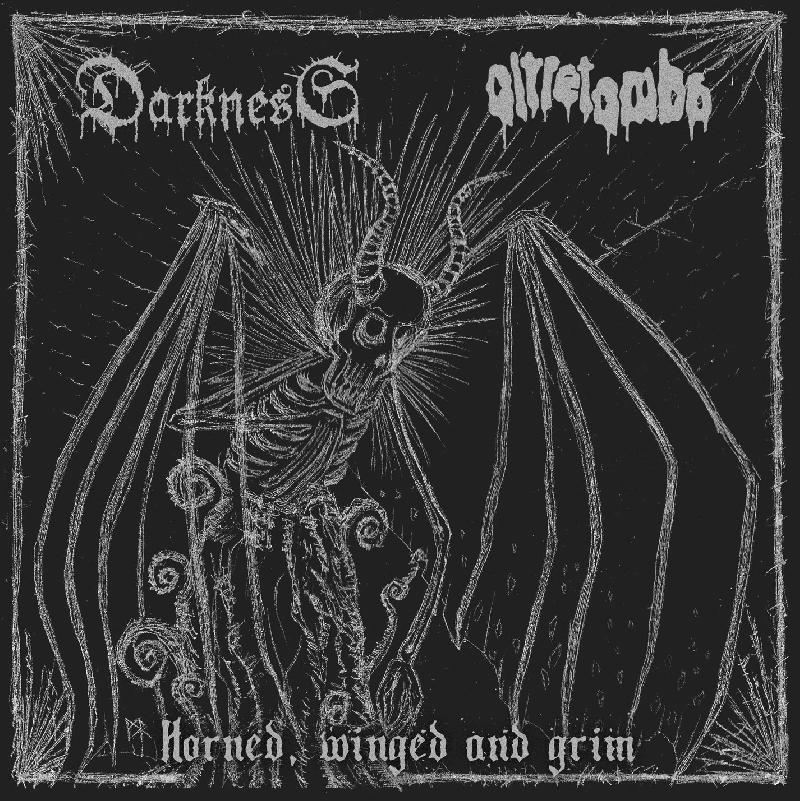 Dopo alcuni problemi di natura prettamente tecnica, lo split cd "Horned, Winged and Grim" firmato Darkness/Oltretomba è ora disponibile tramite Fistbang Records/War Productions. Comunicato degli Oltretomba:
"Non vi annoieremo con patetiche scusanti e lunghi piagnistei circa lo slittamento di questa uscita discografica:il nostro split con i Darkness annunciato mesi fa vede finalmente la luce!
Questa uscita è postuma alla scomparsa di Marco De Rosa (qui presente come M. nei Darkness), con cui abbiamo lavorato a stretto contatto tra il 2016/2017 e che di fatto è anche autore della copertina, realizzata con coltello su carta nera.
M. era uno dei più validi e proficui musicisti dell'underground italiano, avendo fatto parte di rispettate realtà nostrane come The True Endless, Skoll, Opera IX, Huginn e A Forest solo per dirne alcune.
Questo CD è dedicato alla sua memoria, per tutto ciò che ha creato e per quello che non potremo più fare insieme."
TRACKLIST:
1. Darkness - Endless Wrath (inedito)
2. Darkness - Dying Alone (inedito)
3. Darkness - Aemathien (live)
4. Darkness - Let the Napalm Rain (live)
5. Oltretomba - Motherfucker of Grand Cross (inedito)
6. Oltretomba - Amputation (inedito)
7. Oltretomba - Her Eyes (inedito)
8. Oltretomba - Lustful skin (demo)
9. Oltretomba - Black profanation of death (Death SS cover/medley)
TRAILER:
https://www.youtube.com/watch?v=vG9AK6W4jHk
LINK:
Oltretomba:
https://www.facebook.com/Oltretomba.RetrogardeMetal
Darkness:
https://www.facebook.com/darknessitaly
Fistbang Records:
https://www.facebook.com/fistbangrecs
War Production:
https://www.facebook.com/War-Productions-178514828836092
Inserita da:
Jerico
il 28.12.2018 - Letture:
1499
Articoli Correlati
Interviste
Spiacenti!

Non sono disponibili Interviste correlate.
Concerti
Spiacenti!

Non sono disponibili concerti correlati.
Altre News di MetalWave