ALCHEMY: rinnovata la partnership con Street Symphonies Records per il nuovo studio album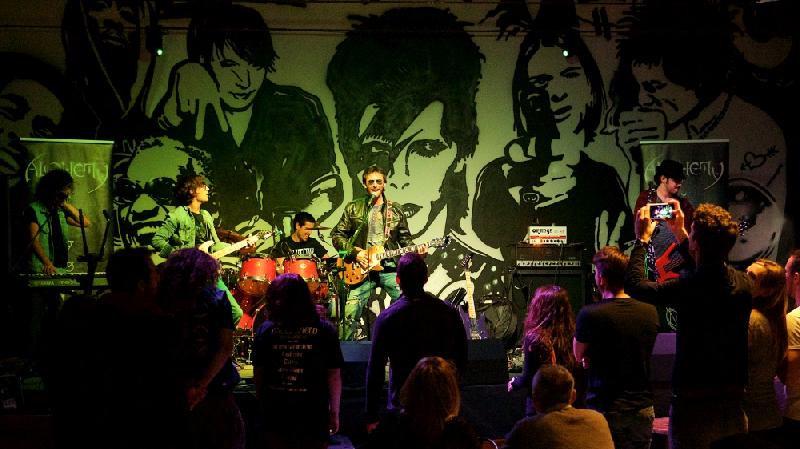 Street Symphonies Records e Burning Minds Music Group sono orgogliosi di annunciare l'accordo discografico con i melodic hard-rocker nostrani Alchemy per il rilascio del loro nuovo album in studio. Gli Alchemy debuttano due anni fa con "Never Too Late" su Street Symphonies Records, un lavoro in grado di mostrare le potenzialità di una band ancora acerba ma dalle notevoli qualità. Sempre nello stesso anni gli Alchemy sono stati invitati a contribuite, con un nuovo brano, a "We Still Rock", una compilation speciale di tracce inedite scritte e registrate da alcuni dei migliori artisti Italiani della scena hard-rock melodica, la quale ha raggiunto la Top 200 di vendite digitali in Svizzera dopo il rilascio nel 2016 tramite Tanzan Music.
Dopo un considerevole numero di date dal vivo in giro per l'Italia, nel 2018 gli Alchemy prendono la decisione di portare il loro lavoro ad un ulteriore livello di professionalità, approcciando il nuovo A&R di Burning Minds Music Group, Pierpaolo "Zorro" Monti (Raintimes, Shining Line, Room Experience, I.F.O.R., Charming Grace), con l'intento di affidargli il lavoro di produzione del loro nuovo album. I lavori in studio sono iniziati nelle prime settimane del 2018, con Zorro in cabina di regia in qualità di supervisore dell'intero processo artistico e di arrangiamento. Il team di lavoro è poi completato da Davide "Dave Rox" Barbieri (Raintimes, Wheels Of Fire, Room Experience, I.F.O.R., Charming Grace) per quanto concerne la produzione delle parti vocali, e Stefano Zeni (Wheels Of Fire, Room Experience, I.F.O.R., Charming Grace) per quello relativo alle chitarre, mentre allo scrittore britannico Peter Darley è stata affidata la supervisione tecnico/grammaticale di tutti i testi in Inglese.
Guarda un clip in studio durante le registrazioni vocali:
https://bit.ly/2xpLyIn
L'album sarà mixato da Oscar Burato presso i suoi Atomic Stuff Studio (Airbound, Firmo, Orphan Skin Diseases), mentre il processo finale di mastering sarà affidato alle sapienti mani di Roberto Priori al PriStudio (Raintimes, Danger Zone, Wheels Of Fire, I.F.O.R.). Maggiori dettagli riguardo a track list, release date, cover artwork e ospiti speciali seguiranno nelle prossime settimane.
Line-up:
Marcello Spera: Voce
Cristiano Stefana: Chitarra
Andrew Trabelsi: Testiere
Matteo Castelli: Basso
Matteo Severini: Batteria e Percussioni
Web/Social Links:
http://www.facebook.com/musicalchemy
http://www.burningmindsgroup.com/street-symphonies
http://www.facebook.com/streetsymphonies
Inserita da:
Jerico
il 17.09.2018 - Letture:
565
Articoli Correlati
Interviste
Spiacenti!

Non sono disponibili Interviste correlate.
Live Reports
Spiacenti!

Non sono disponibili Live Reports correlati.
Concerti
Spiacenti!

Non sono disponibili concerti correlati.
Altre News di MetalWave