HOUR OF PENANCE: annunciate le date del tour europeo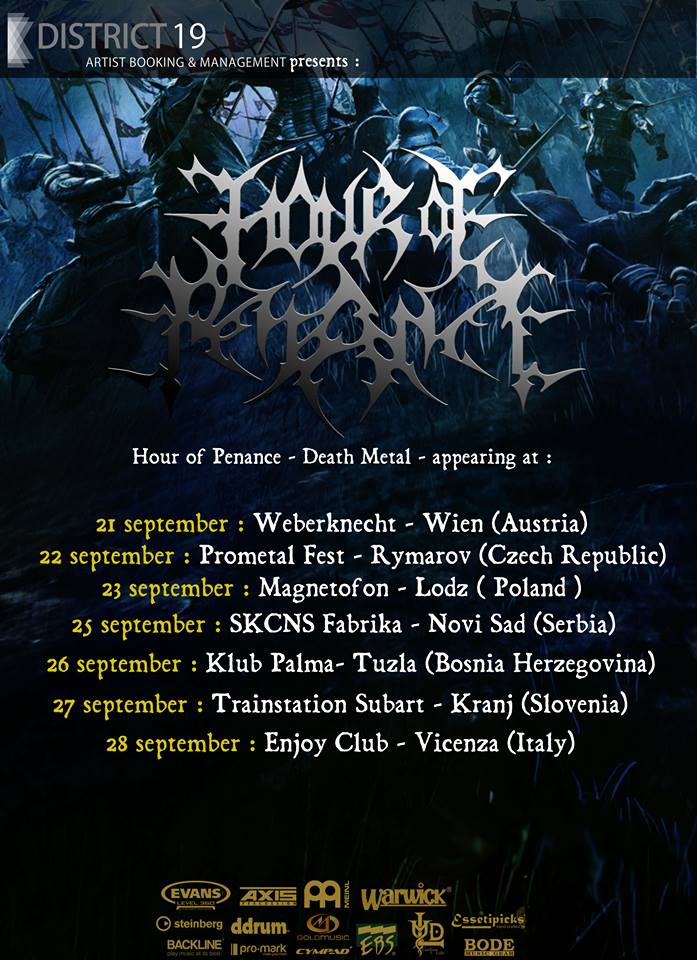 I Death Metallers italiani HOUR OF PENANCE hanno pubblicato un programma aggiornato dell'evolversi del loro tour europeo. Lo spettacolo precedentemente annunciato in Bosnia Erzegovina è stato trasferito in una nuova sede a Tuzla, presso il Palma Klub, mentre lo spettacolo a Pula, in Croazia, è stato trasferito a Kranj, in Slovenia, presso TrainStation SubArt.
Di recente gli HOUR OF PENANCE hanno festeggiato il decimo anniversario della pubblicazione del loro album d'esordio "The Vile Conception" pubblicando la rara "Promo 2007" su Bandcamp. Grazie alla "Promo 2007", la band si è assicurata un accordo con la leggendaria etichetta americana Unique Leader Records (Deeds Of Flesh, Disgorge, Beheaded), che ha originariamente pubblicato l'album il 23 febbraio 2008.
Di seguito le date del tour:
21/09/2018: Weberknecht - Wien (Austria)
22/09/2018: Prometalfest - Rymarov (Czech Republic)
23/09/2018: Magnetofon - Lodz (Poland)
25/09/2018: SKCNS Fabrika - Novi Sad (Serbia)
26/09/2018: Klub Palma - Tuzla (Bosnia Herzegovina)
27/09/2018: TrainStation SubArt - Kranj (Slovenia)
28/09/2018: Enjoy Club - Vicenza (Italy)
Inserita da:
Wolverine
il 13.09.2018 - Letture:
872
Articoli Correlati
Interviste
Spiacenti!

Non sono disponibili Interviste correlate.
Live Reports
Spiacenti!

Non sono disponibili Live Reports correlati.
Altre News di MetalWave
Notizia Precedente
Notizia Successiva