ANTIPATHIC: terminati i lavori per il full-length "Humanimals"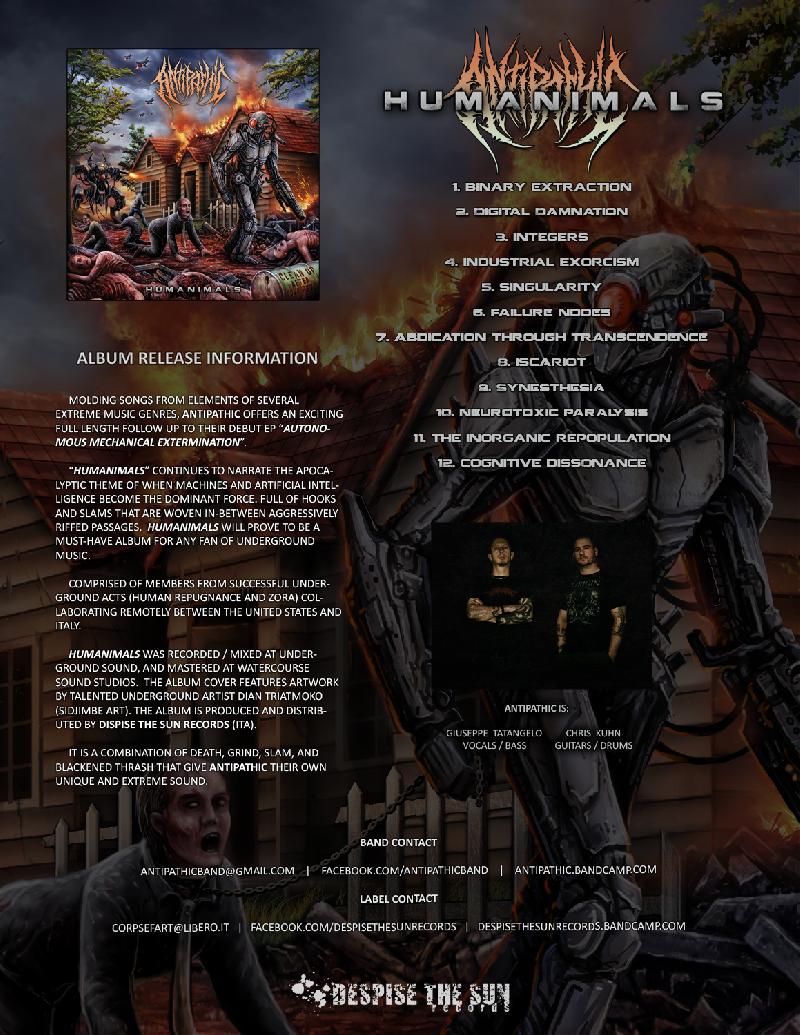 Terminati i lavori al primo full length del duo italo-americani Antipathic;
L'album, successore dell' ep di esordio del 2017 "Autonomous Mechanical Extermination", si intitola "Humanimals" ed uscirà entro fine anno per la label italiana DESPISE THE SUN RECORDS;
è stato registrato e missato presso gli Underground Sound Studios ( USA ), Master presso Watercourse Sound Studios ( USA ), e contiene 12 tracce della durata totale di 30 minuti :
1. binary extraction
2. Digital Damnation
3. integers
4. industrial exorcism
5. singularity
6. failure nodes
7. abdication through transcendence
8. iscariot
9. Synesthesia
10. neurotoxic paralysis
11. the inorganic repopulation
12. cognitive dissOnance
Con "Humanimals" la band continua a narrare l'apocalittico tema del predominio di macchine ed intelligfenza artificiale sull'uomo, con un sound di matrice brutal death, ma che prende elementi da diversi generi di matrice extreme, consigliato agli amanti del Brutal, del Death, dello Slam e del Thrash Metal
Va ricordato che Antipathic, formati ad inizio del 2017, è un duo che collabora a distazna tra Stati Uniti ed Itlia, ed è composto da da Chris Kuhn ( Human Repugnance ) alla chitarra e batteria e da Tat0 ( Zora e Glacial Fear ) alla voce e al basso.
A breve un primo estratto del full length verrà messo online tramite SLAM WORLDWIDE, rimanete sintonizzati !!!
contatti :
https://www.facebook.com/antipathicband
https://antipathic.bandcamp.com/releases
antipathicband@gmail.com
https://www.facebook.com/despisethesunrecords
Inserita da:
Jerico
il 22.08.2018 - Letture:
982
Articoli Correlati
Interviste
Spiacenti!

Non sono disponibili Interviste correlate.
Live Reports
Spiacenti!

Non sono disponibili Live Reports correlati.
Concerti
Spiacenti!

Non sono disponibili concerti correlati.
Altre News di MetalWave