THE UNDERGROUND ALLIANCE FEST: con HIRAX, GRAVE DESECRATOR, GAME OVER e altri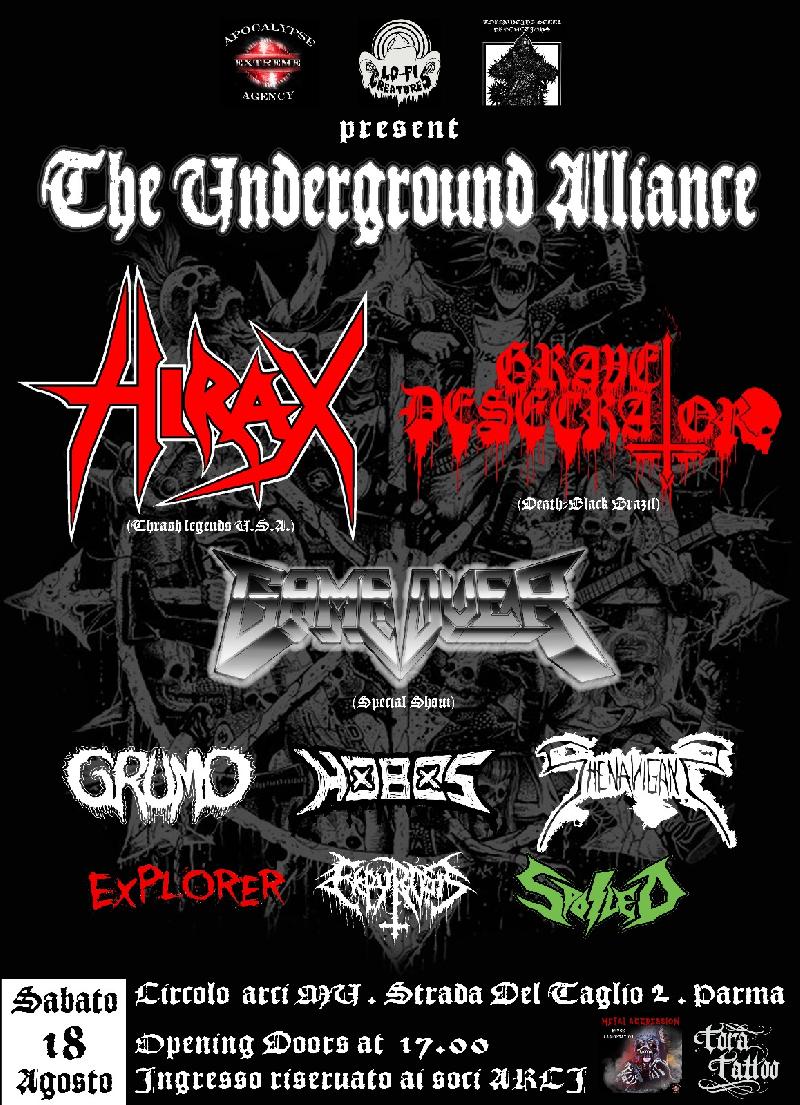 Apocalypse Extreme Agency, Lo-Fi Creatures Events e Tormenting Steel Production presentano "The Underground Alliance Fest" che si terrà Sabato 18 Agosto presso il circolo Arci MU di Parma. Il festival nasce dall'idea di unire tutti gli appassionati legati alla scena underground, in un unica giornata all'insegna della musica e del divertimento.
Gli headliner della giornata saranno gli storici thrashers californiani HIRAX, con il loro carismatico singer Katon W. De Pena, sono pronti a regalarci uno show devastante, proponendo in scaletta i brani storici che hanno reso leggendaria la band americana.
I GRAVE DESECRATOR saranno la seconda big thing della giornata: direttamente da Rio De Janeiro, il combo brasiliano, attivo dal 1998 e considerato tra le band più rinomate della scena Black/Death Metal mondiale, metterà a ferro e fuoco il palco del Circolo Arci Mu.
Dopo l' esibizione al Rock The Castle, tornano a Parma i thrashers GAME OVER , con uno show speciale dedicato ai primi due album della band "For Humanity" e "Burst Into Quiet", che li vedrà di nuovo sul palco con il loro stile inconfondibile, che da anni è il marchio di fabbrica del combo ferrarese.
Prima di loro sul palco ci saranno GRUMO, HOBOS, SHENANIGANS, EXPLORER, EKPYROSIS e SPOILED.
"The Underground Alliance Fest" sarà un evento open air e si svolgerà anche in caso di maltempo.
Il Circolo Arci Mu è provvisto di parcheggi gratuiti e sarà possibile bere e mangiare direttamente al festival.
BIGLIETTI
Il costo del biglietto alla cassa è di €18
PREVENDITE
Acquistando i biglietti in prevendita, entro il 15 luglio, il costo del biglietto sarà di € 15
Scrivendo all'indirizzo mail loficreatures@gmail.com riceverete le istruzioni per acquistare i biglietti in prevendita.
Ingresso riservato ai soci Arci
SABATO 18 AGOSTO 2018
THE UNDERGROUND ALLIANCE FEST
Con:
HIRAX (Thrash Metal from U.S.A.)
GRAVE DESECRATOR (Death/Black from Brazil)
GAME OVER (Thrash Metal - Exclusive special show dedicato a "For Humanity" e "Burst into Quiet")
GRUMO
HOBOS
SHENANIGANS
EXPLORER
EKPYROSIS
SPOILED
Presso:
Circolo Arci MU
Strada del Taglio 2
Parma
Evento Facebook:
http://www.facebook.com/events/224260068304738/
Apertura Cancelli ore 17:00
PARTNERS UFFICIALI:
Tora Tattoo
Terror From Hell Records
Tornado Ride Records
INFO:
http://www.apocalypseextemeagency.com
http://www.facebook.com/loficreatures
http://www.facebook.com/tormentingsteelproductions
Inserita da:
Jerico
il 04.07.2018 - Letture:
739
Articoli Correlati
Altre News di MetalWave
Notizia Precedente
Notizia Successiva