METALITALIA.COM FESTIVAL 2018: show speciale dei CRIPPLE BASTARDS, RAW POWER e altri per il warm-up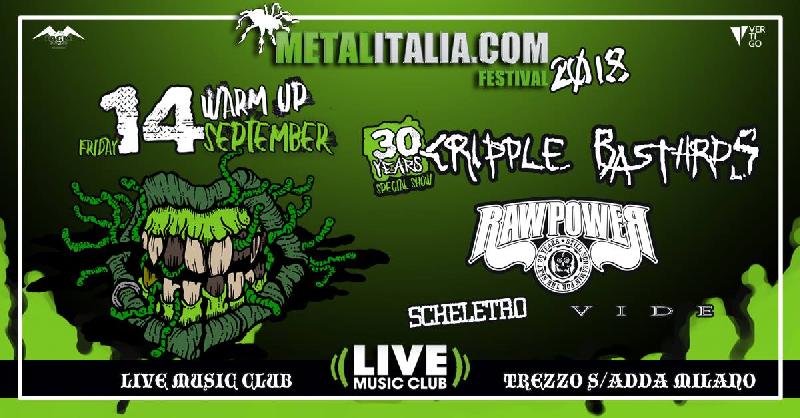 Dopo il bill completo delle due giornate principali del Metalitalia.com Festival 2018, in programma per il 15 e 16 settembre al Live Club di Trezzo sull'Adda (MI), Metalitalia.com, Eagle Booking e Vertigo sono liete di annunciare il warm-up che si terrà Venerdì 14 settembre!
Il primo warm-up della storia del festival porterà sul palco del Live Club due band cardine rispettivamente delle scene grindcore e hardcore europea: i CRIPPLE BASTARDS con uno show speciale per il loro trentennale e gli altrettanto storici RAW POWER, per un'accoppiata di co-headliner all'insegna dell'irriverenza e del pogo sfrenato.
Prima di loro non potevamo certo "lasciare soli" i romani SCHELETRO, sempre più seguiti grazie al loro recente debutto "Farfalle Dentro al Vomito". In apertura di serata i newcomer VIDE.
Come già annunciato, il costo del solo warm-up è di 10 euro, mentre è incluso nell'abbonamento per i due giorni principali del Metalitalia.com Festival.
Vi aspettiamo sotto al palco per questa esplosiva serata di lancio del festival con una sola raccomandazione: fate casino e divertitevi assieme a tutti noi dello staff!
METALITALIA.COM FESTIVAL 2018
WARM-UP – 14 SETTEMBRE 2018
CRIPPLE BASTARDS (30 years special show)
RAW POWER
SCHELETRO
VIDE
DAY 1 – 15 SETTEMBRE 2018
HAMMERFALL (best of show)
RAGE meets REFUGE
GRAVE DIGGER ('The Middle Ages Trilogy' special show)
DOMINE
ELVENKING
ELDRITCH
ROSAE CRUCIS
ASGARD
DAY 2 – 16 SETTEMBRE 2018
CANDLEMASS
TIAMAT ('Wildhoney' & 'Clouds' special show)
NOVEMBRE
FORGOTTEN TOMB ('Songs To Leave' special show)
DOOL
DOOMRAISER
CARONTE
NIBIRU
BIGLIETTI:
Singola giornata in prevendita: €35.00 + diritti
Singola giornata in cassa: €40.00
Abbonamento in prevendita incluso warm-up: €60 + diritti
Abbonamento in cassa incluso warm-up: €70 + diritti
Warm-up in prevendita: € 10 + diritti
Warm-up in cassa: € 10
Prevendite disponibili su Ticketone, Mailticket e punti vendita autorizzati.
EVENTO FACEBOOK a questo indirizzo:
http://www.facebook.com/events/193497087860014/
Info:
METALITALIA.COM
http://www.metalitalia-festival.com
http://www.facebook.com/Metalitalia.comFestival
http://www.metalitalia.com
EAGLE BOOKING LIVE PROMOTION
http://www.eaglebooking.com
http://www.facebook.com/eaglebooking.livepromotion
VERTIGO
http://www.vertigo.co.it
http://www.facebook.com/VertigoHardSounds
http://www.facebook.com/vertigo.co.it
LIVE CLUB
http://www.liveclub.it
Inserita da:
Jerico
il 22.06.2018 - Letture:
1541
Articoli Correlati
Altre News di MetalWave
Notizia Precedente
Notizia Successiva