GRAZIANO CICCARELLI: annuncia la collaborazione con ART BEAT DRUMSTICKS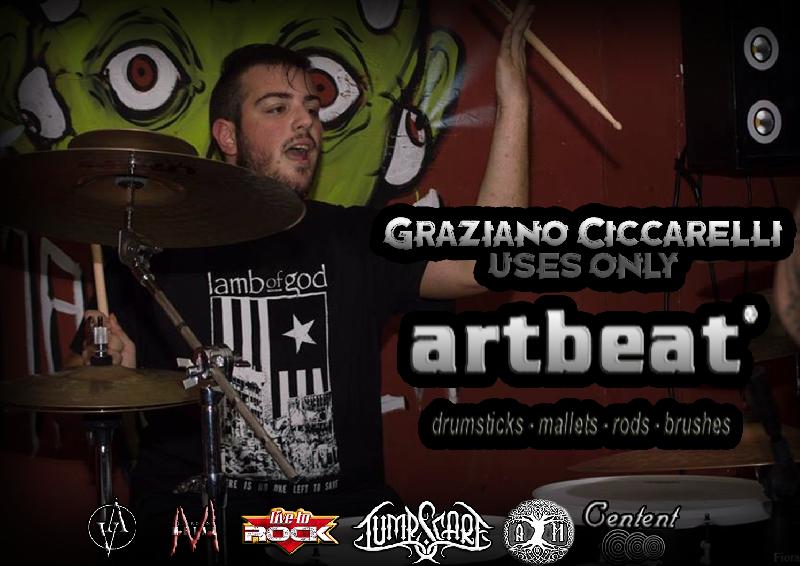 Graziano Ciccarelli batterista dei gruppi Jumpscare e Axis Mundi è ufficialmente nella famiglia ART BEAT DRUMSTICKS.
La famiglia internazionale della ditta tedesca accoglie artisti di ogni genere di caratura nazionale e internazionale,nel roster vanta(tra i tanti nomi internazionali) anche Emiliano Cantiano degli Shores Of Null. Attualmente sta sviluppando il suo modello di bacchetta signature assieme all'azienda.
I Jumpscare sono attualmente in promozione del loro EP "Sowing Storms" uscito ad inizio estate per l'etichetta Volcano Records and Promotion
Congiutamente al lavoro di promozione,il gruppo partenopeo sta anche ponendo le basi di lavorazione del loro primo album.
Gli Axis Mundi sono attualmente in lavorazione del loro primo full-lenght "Solve Et Coagula",hanno annunciato per ora la partecipazione di Luis Maggio (Sudden Death,Bloodtruth) come guest vocals.
Inserita da:
Jerico
il 02.03.2018 - Letture:
747
Articoli Correlati
Interviste
Live Reports
Spiacenti!

Non sono disponibili Live Reports correlati.
Concerti
20 Feb. 2021

Ancient + Infernal Angels + JumpScare + XXII Arcana @ "Alchemica Music Club", Bologna (BO)
Altre News di MetalWave