ROCK IN PARK ON THE ROAD: annunciate due date a Mantova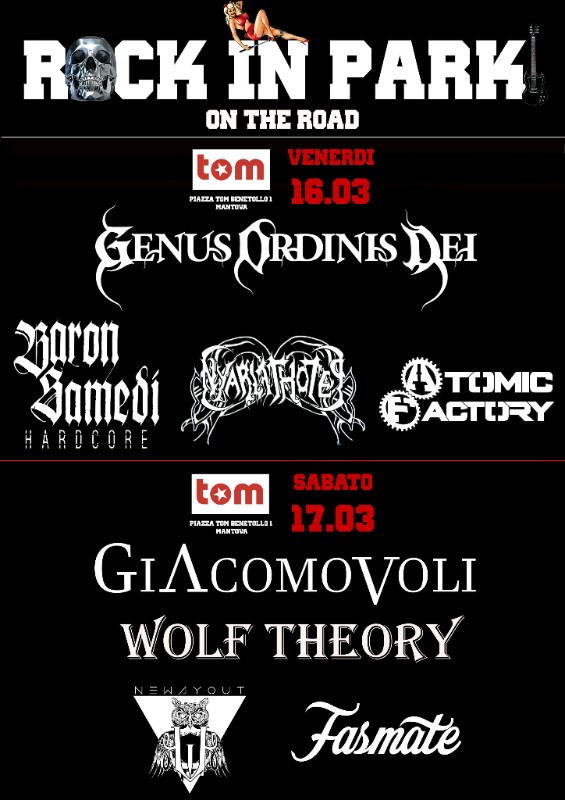 Dopo essersi affermato nel suo luogo di origine, ovvero il Legend Club Milano, il Rock In Park ha iniziato a ad assumere una veste itinerante, toccando diverse località della penisola italica. L'ottimo riscontro ottenuto dagli organizzatori nel 2017, con Bologna e Vercelli, ha fatto sì che questo format venisse riproposto anche col nuovo anno.
Sarà Mantova ad ospitare la prima tappa di un 2018 che promette scintille! Venerdì 16 e sabato 17 marzo, presso l'Arci Tom avremo due nomi d'eccezione della scena metal-alternative italiana: i GENUS ORDINIS DEI la prima sera, reduci dall'ultima fatica discografica "Great Olden Dynasty", contenente il brano "Salem" feat. Cristina Scabbia, la quale inizierà a breve una nuova avventura come giudice nel programma The Voice of Italy; la seconda serata invece vedrà GIACOMO VOLI, frontman dei Rhapsody Of Fire, che proporrà il suo primo LP "Prigionieri Liberi" uscito nel Settembre 2017. Co-Headliner saranno i WOLF THEORY, nuovo progetto musicale dei fratelli Camellini (ex Mellowtoy) assieme a Random ed Elio (ex Exilia). Ad aprire i concerti saranno band locali.
Eccovi tutte le infos:
VENERDI' 16 MARZO 2018 ingresso 7€
Headliner:
Genus Ordinis Dei
Opener:
Baron Samedi Hardcore
Nyarlathotep
Atomic Factory
SABATO 17 MARZO 2018 ingresso 7€
Headliner:
Giacomo Voli
CoHeadliner:
Wolf Theory
Opener:
Fasmate
New Way Out
Inserita da:
Jerico
il 14.02.2018 - Letture:
572
Articoli Correlati
Live Reports
Spiacenti!

Non sono disponibili Live Reports correlati.
Concerti
27 Lug. 2019

Furor Gallico + Stormlord + Coram Lethe + My Tin Apple + Mhela + Secret Wizard + Freud's Statement Project @ "Rock In Park Open Air", Cava Di Roselle (GR)

26 Lug. 2019

ROCK IN PARK OPEN AIR: Athrox + Scarlet and the Spooky Spiders + Mind Ahead + Carved + New Horizons @ "Cava Roselle", Roselle (GR)

13 Lug. 2019

Nanowar Of Steel @"Rock in Park Open Air", Cerea (VR)

12 Lug. 2019

Destrage @ "Rock In Park Open Air", Cerea (VR)

30 Giu. 2019

Rock In Park Open Air : Il Muro del Canto + Virginia Waters + Mosquitoes + Il Gigante + Onion Rings + guest @ "Circolo ACSI Supernova", Tuoro sul Trasimeno (PG)

29 Giu. 2019

Rock In Park Open Air : Omar Pedrini in TIMORIA + Lagoona + Oh!Eh? + Rock Brigade + Lesbian Wallet @ "Circolo ACSI Supernova", Tuoro sul Trasimeno (PG)

28 Giu. 2019

Nanowar Of Steel + Jaspers + Sailing to Nowhere + Mass Crysis + Overchains + Elemento 115 @"Rock in Park Open Air", Tuoro Sul Trasimeno (PG)

01 Giu. 2019

METALITALIA.COM FESTIVAL 2019: Arch Enemy + Fleshgod Apocalypse + The Crown + Darkane + Graveworm Stormlord +The Modern Age Slavery + Genus Ordinis Dei @ "Live Music Club", Trezzo sull'Adda (MI)
Altre News di MetalWave