GODS OF MEL: festival a scopo benefico con ELVENKING, DELIRIUM X TREMENS e altri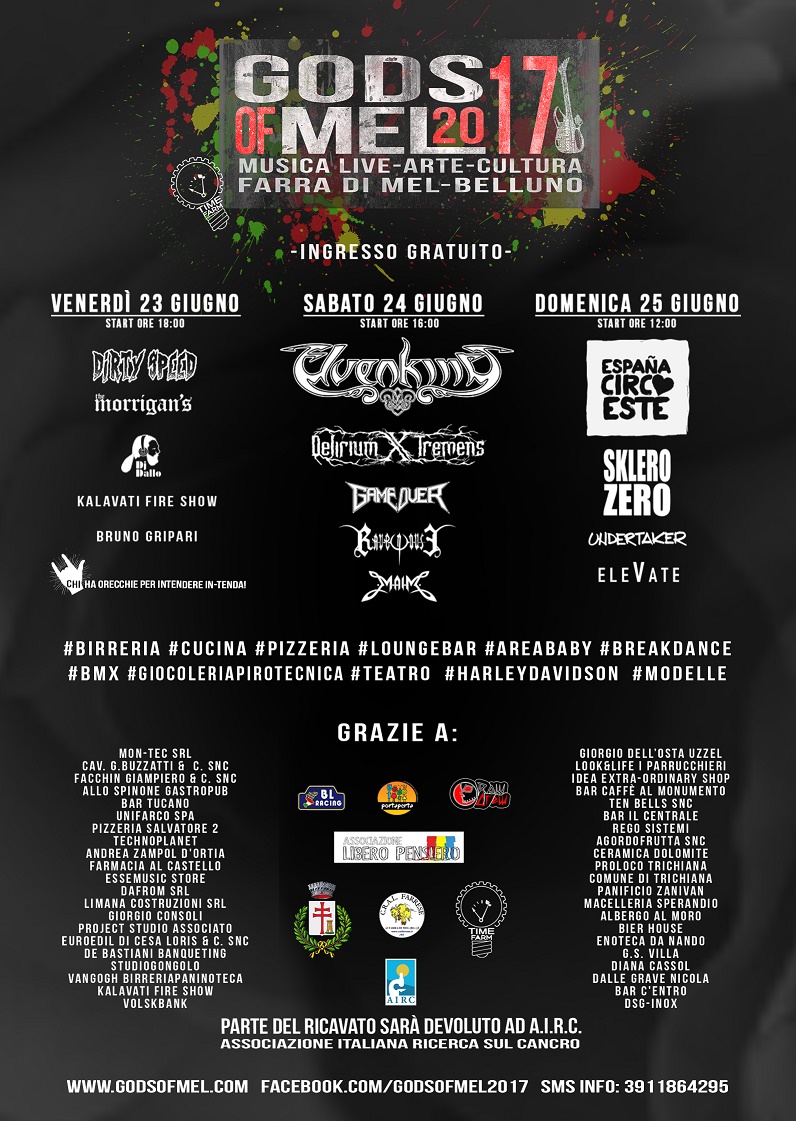 Anche quest'anno ritorna il GODS OF MEL, festival gratuito e a scopo benefico in memoria dell'amico musicista Omar De Paris.
Il festival si terrà a Farra di Mel (BL) in Loc.Pian Del Toro.
Venerdì 23 Giugno serata dedicata al fuoco con spettacoli di giocoleria pirotecnica con KALAVATI FIRE SHOW. Sul palco si esibiranno i giovani rocker DIRTY SPEED e i punkers MORRIGAN'S.
Sabato 24 Giugno sarà la serata principe del festival e sul palco saliranno i folk metaller bellunesi M.A.I.M. i pordenonesi RAVENOUSE con il loro gothic metal moderno e affascinante , i GAME OVER band di punta della scena thrash metal tricolore e i padroni di casa DELIRIUM X TREMENS forti del loro ultimo album "Troi" (Punishment 18 Records) . Headliner della serata saranno i friulani ELVENKING, veri e propri leader del movimento pagan/folk metal italiano, appena rientrati dal loro tour europeo.
Running Order :
ELVENKING 23.10
DELIRIUM X TREMENS 21.30
GAME OVER 20.15
RAVENOUSE 19.15
M.A.I.M 18.15
Domenica 25 Giugno giornata dedicate alla musica a 360° con gli ELEVATE giovane band prog/rock anni 70, i veterani del blues bellunese UNDERTAKER, dopo di loro gli SKLERO ZERO storica band Ska locale che porterà sul palco una ventata di allegria. A chiudere la serata e il festival gli ESPANA CIRCO ESTE, band di livello internazionale che con il loro Tango Punk faranno saltare e ballare tutto il pubblico.
Running Order :
ESPANA CIRCO ESTE 21.45
SKLERO ZERO 20.00
UNDERTAKER 19.00
ELEVATE 18.00
Il festival ospiterà, oltre ai concerti, un Evento di BMX, Break Dance e Hip-Hop a cura di Raw Crew, installazioni Artistiche, rappresentazioni teatrali e un'area attrezzata per i più piccoli.
Sarà attiva una fornitissima cucina dove poter degustare prodotti locali assieme ad un ottima birra o un cocktail fornito dallo speciale lounge bar.
Sarà possibile inoltre campeggiare liberamente durante tutta la durata del festival in un area dedicata.
GODS OF MEL
http://www.godsofmel.com
Associazione TIME FARM
http://www.facebook.com/associazionetimefarm
Inserita da:
Jerico
il 07.06.2017 - Letture:
1485
Articoli Correlati
Altre News di MetalWave
Notizia Precedente
Notizia Successiva