SOUTH'S CHEYENNE 2017: lo storico motoraduno ed il più grande festival del Sud Italia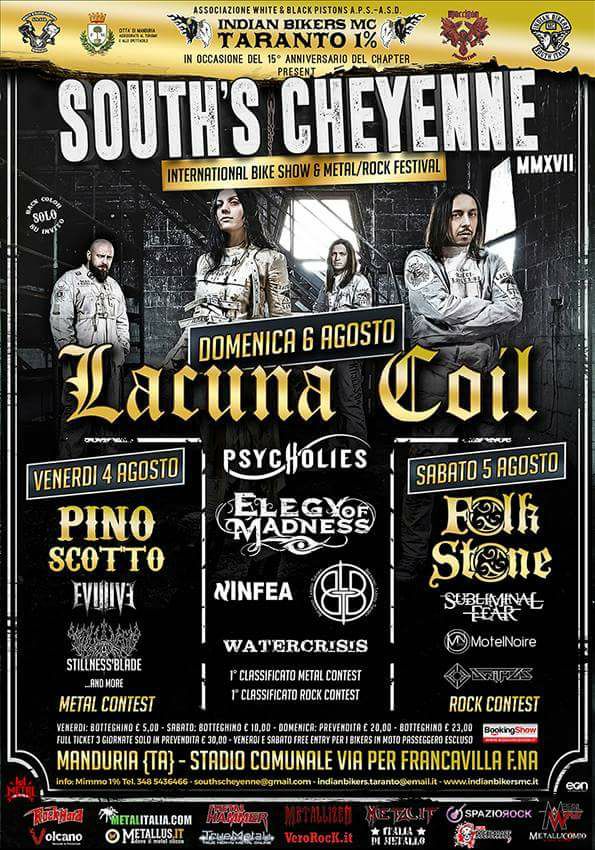 In occasione del 15° Anniversario degli INDIAN BIKERS Motorcycle Club Taranto 1%, ritorna il SOUTH'S CHEYENNE INTERNATIONAL BIKE SHOW & METAL/ROCK FESTIVAL, motoraduno in grande stile legato alla cultura bikers old school, un evento che è diventato negli anni un' icona del movimento sia BIKERS che MUSICALE di tutto il Sud Italia!
Una tre giorni indimenticabile dal 4 al 6 Agosto 2017.
Contestualmente al raduno già ricco di intrattenimenti, show, biker's games e sorprese, si avvicenderanno sul palco oltre 40 Band nel METAL /ROCK FESTIVAL con headliners nelle tre serate PINO SCOTTO, FOLKSTONE e LACUNA COIL!! Come nelle altre edizioni, anche quest'anno ci sarà un contest per band Rock e Metal, al primo classificato per ogni categoria, verrà consegnato un premio in denaro di € 1.000 e l'opportunità di esibirsi nella serata conclusiva sullo stesso palco dei LACUNA COIL!!!
La giuria sarà composta da professionisti del settore, nomi importanti del panorama musicale Nazionale e non solo come: PINO SCOTTO, DJ TOKY di VIRGIN RADIO, Camillo Fasulo di Radio CICCIO RICCIO, capo redattori di note riviste musicali, organizzatori di Eventi Rock e Metal del Sud Italia e tanti altri!!!
Le iscrizioni sono aperte fino al 30 Giugno 2017.
il VERDETTO per entrambe le categorie, verrà annunciato nel corso della serata del 5 Agosto, nella quale avverrà anche la premiazione.
PROGRAMMA:https://www.google.it/url?sa=t&rct=j&q=&esrc=s&source=web&cd=1&cad=rja&uact=8&ved=0ahUKEwjy8JfYvqLUAhVIBcAKHX6zAfsQFggmMAA&url=https%3A%2F%2Fit-it.facebook.com%2Fbreakinglarsentheory%2F&usg=AFQjCNF1hbabKhNiaiEHbsDHFeJXY0THCw
VENERDI' 4 AGOSTO
- H.17.00 - Inizio del Contest tra le band METAL
- H.22.30 - PINO SCOTTO + Evillive + Stillness'Blade + Soul of Steel.
SABATO 05 AGOSTO
- H.17.00 - Inizio del Contest tra le band ROCK
- H.22.30 - FOLKSTONE + Subliminal Fear + Motel Noir + D With Us.
DOMENICA 6 AGOSTO
- H.18:00 - Vincitori dei Contest + WaterCrisis + Ninfea + Breking Larsen Theory + Elegy of Madness + Psycholies.
- H.22.30 - LACUNA COIL.
Il tutto in collaborazione con MORRIGAN PROMOTION
LINK EVENTO :
https://www.facebook.com/events/174853019709030/
Info e prevendite:
http://www.bookingshow.it
Inserita da:
Jerico
il 06.06.2017 - Letture:
2163
Articoli Correlati
Altre News di MetalWave
Notizia Precedente
Notizia Successiva