ELECTROCUTION: al lavoro sul nuovo album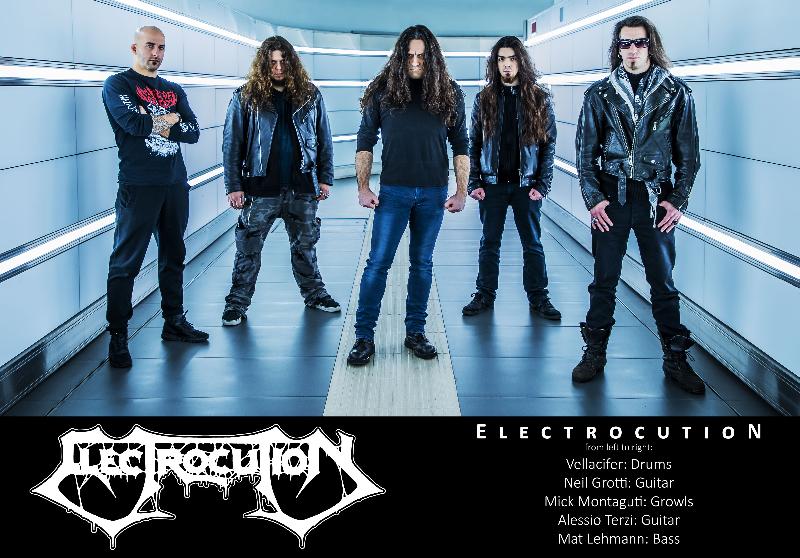 Il 13 Maggio gli Electrocution hanno pubblicato la cover video di Flattening of Emotions, il brano di apertura di "Human", album capolavoro dei Death. Si tratta di un omaggio per il 50esimo anniversario della nascita di Chuck Schuldiner e un regalo per tutti i metalheads. Questo è il primissimo lavoro in studio per la nuova line-up.
https://youtu.be/hOhlHCWncnc
Inoltre la band ha firmato con Dark Symphonies (USA) per rilasciare una nuova edizione di "Inside The Unreal". Questa volta sarà un doppio CD con brani dai demo tape e con le quattro tracce dai due 7'' che uscirono nel 1994. L'etichetta tiene particolarmente a stampare la copertina come nella prima edizione ed è riuscita a convincere la band ad inserire finalmente anche i testi che, prima d'ora, non erano mai stati pubblicati!
Dopo diversi cambiamenti di line-up la band ha finalmente ritrovato la stabilità e un combo ben coeso:
Mick: Growls
Neil Grotti: Guitar
Alessio Terzi: Guitar
Mat Lehmann: Bass
Vellacifer: Drums
Purtroppo Alex Guadagnoli ha lasciato la band. Sfortunatamente i sempre crescenti impegni oltre oceano non gli permettono più di potersi dedicare ad Electrocution.
Neil Grotti: grande compositore e chitarrista ritmico, ottimo anche come solista, proveniente da Neurasthenia, Lehmann Project ed ex turnista per varie band come ad esempio: Blaze Bayley.
Alessio Terzi: giovanissimo chitarrista solista dalle doti preziose (22 anni) , con una preparazione classica alle spalle, prima al pianoforte e alla chitarra poi.
Mat Lehmann: di grandi capacità tecniche, abituato a suonare anche sul sei corde fretless. Come Neil proviene da Neurasthenia, Lehmann Project ed ex turnista per varie band come ad esempio: Blaze Bayley.
Vellacifer: si è unito alla band già nel 2013 suonando nell'album Metaphysincarnation.
Mick: è il fondatore e continua imperterrito il suo lavoro di frontman, senza chitarra ora, ma con il suo growl.
Con questa formazione Electrocution ha cominciato il lavoro sul nuovo album. Sarà il risultato della collaborazione totale di tutta la band e, anche Alex Guadagnoli parteciperà come ospite solista.
Uscita prevista nel 2018.
Inserita da:
Jerico
il 05.06.2017 - Letture:
1320
Articoli Correlati
Interviste
Spiacenti!

Non sono disponibili Interviste correlate.
Live Reports
Spiacenti!

Non sono disponibili Live Reports correlati.
Concerti
Spiacenti!

Non sono disponibili concerti correlati.
Altre News di MetalWave
Notizia Precedente
Notizia Successiva