TRIUMVIRATE TOUR: stasera l'unica data italiana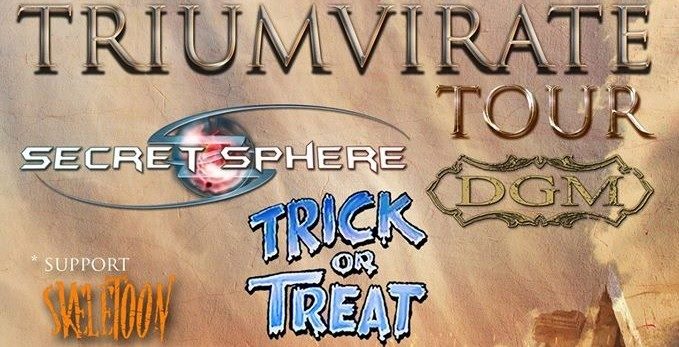 Stasera l'unico show italiano del TRIUMVIRATE TOUR di Secret Sphere, Dgm, Trick Or Treat e l'opening Skeletoon.
Ultima data di un tour di 4 band italiane, alcune delle più interessanti realtà della scena power metal, che ha conquistato l'Europa intera e chiude alla grande con uno show speciale!
SECRET SPHERE
Una delle band portabandiera del metal tricolore, in attesa del nuovo album su Frontiers Records, arrivano per chiudere il cerchio del fortunatissimo " Portrait Of A Dying Heart" ed del loro primo Live Ufficiale, registrato in Giappone: " One Night In Tokyo"!
DGM
Pionieri del Progressive Metal italiano, guidati da uno dei chitarristi e produttori più influenti della scena , Simone Mularoni, tornano in Piemonte i Dgm!
A supporto del nuovo acclamato album " The Passage" .
TRICK OR TREAT
Dopo i tour insieme ad Helloween e Sonata Arctica, oltre al tour giapponese coi Secret Sphere, non si ferma questa super band modenese con alla voce Alle Conti, già con Luca Turilli's Rhapsody.
Anch'essi con un album su Frontiers , tornano in Piemonte con uno show speciale.
SKELETOON
Opener dell'evento uno degli act power più interessante tra le nuove realtà , in promozione per il nuovo album uscito per Revalve Records
SABATO 8 APRILE
OFFICINE SONORE - Vercelli
Inserita da:
Jerico
il 08.04.2017 - Letture:
1264
Articoli Correlati
Altre News di MetalWave