BULLET-PROOF: i dettagli del nuovo album e release party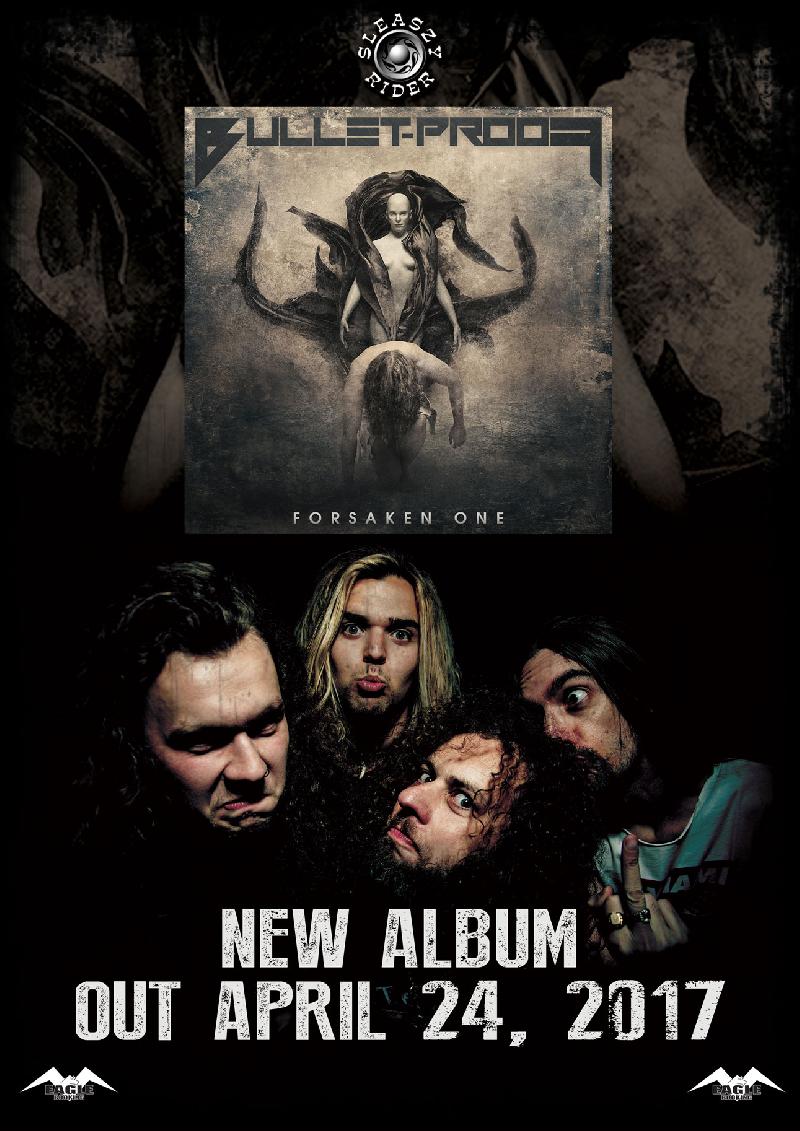 I BULLET-PROOF hanno appena terminato i lavori per la produzione del nuovo lavoro in studio che verrà pubblicato il 24 Aprile 2017, via Sleaszy Rider Records. Sarà disponibile in formato CD e sulle maggiori piattaforme digitali del settore.
"Forsaken One", questo il titolo del nuovo album, sarà un puro concentrato speed/thrash metal secondo i dettami della "old school" europea, con una produzione potente e graffiante grazie al lavoro svolto da Federico Pennazzato, presso i Music Ink Studios (Insidia, Ulvedharr, Temperance, Athrox) di Arona (NO).
Copertina e artwork sono stati affidati a Stefano Mattioni dello studio Viron 2.0
Sono 9 le tracce della nuova release:
01-Might Makes Right
02-Forsaken One
03-Portrait Of The Faceless King
04-No One Ever
05-I Was Wrong
06-Abandon
08-Revolution
09-Little Boy
La band presenterà i brani della nuova produzione il 29 Aprile 2017, in occasione di un release party dove si potranno acquistare le copie di "Forsaken One" in anteprima e fare festa insieme a tutta la band, presso il Kuba Kaltern di Caldaro sulla Strada del Vino (BZ)
29 Aprile 2017
BULLET-PROOF "Forsaken One" Release Party
w/ Acclivitas
Kuba Kaltern - Caldaro sulla Strada del Vino (BZ)
Evento Facebook:
http://www.facebook.com/events/262111780903408
Per info riguardo la nuova release, ordinare i cd o il merchandise ufficiale, mp3, live dates, news e tutto quanto riguarda gli BULLET-PROOF è possibile visitare gli spazi web ufficiali:
BULLET-PROOF Official FB Page:
http://www.facebook.com/bulletprooftm
Inserita da:
Jerico
il 18.03.2017 - Letture:
182
Articoli Correlati
Interviste
Spiacenti!

Non sono disponibili Interviste correlate.
Live Reports
Spiacenti!

Non sono disponibili Live Reports correlati.
Concerti
Spiacenti!

Non sono disponibili concerti correlati.
Altre News di MetalWave