MUSICART PROJECT: artwork e tracklist del nuovo "Colors & Dreams"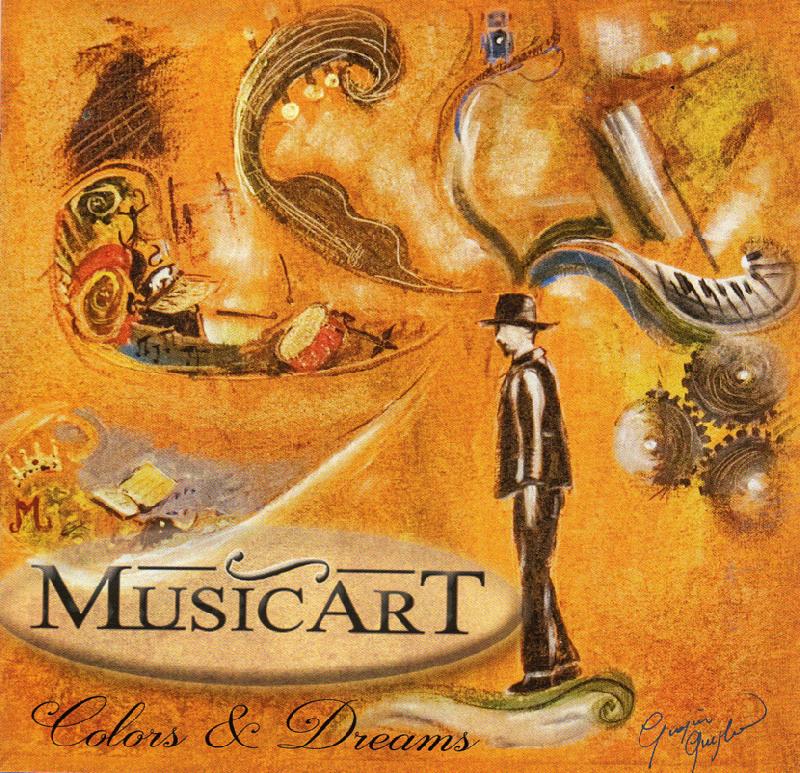 In dirittura d'arrivo il secondo capitolo per MUSICART PROJECT.
Eravamo rimasti a "The Black Side of the Moon" del 2012, versione hard'n'heavy del capolavoro dei Pink Floyd "The Dark Side of the Moon", realizzato dal team di insegnanti di musica della scuola MUSICART di Rapallo (Ge), che vede fra gli altri membri di Necrodeath e Mastercastle.
Sta per essere rilasciato a breve un nuovo CD che coinvolgerà tutti gli insegnanti stessi più ospiti vari.
Il lavoro vedrà la luce sotto DIAMONDS PROD, a consolidare la collaborazione fra l'etichetta genovese e MUSICART.
Il CD avrà come titolo "Colors & Dreams". Rivelate sia tracklist, che artwork, il quale sarà opera di Giorgia Gueglio.
Di seguito la tracklist che conterrà 15 brani:
1 . Varanasi Suryaast / 2. Behind the Veil (Mastercastle) / 3. Hard Days Night (Beatzone) / 4. The Golden Cup (Necrodeath) / 5. The Great Gig in the Sky (Musicart Project) / 6. Route 66 / 7. Pigs (Acoustic Pig Band) / 8. Sonata 11K331 (3 Mov) / 9. Again You (Athlantis) / 10. Claire de Lune / 11. Tears of the Rain (Odyssea) / 12. Marcy / 13. Gold Violet (Giorgia Gueglio Unplugged Trio) / 14. L'Ignorante (Belzer feat. Mario Sabbione) / 15. Queen of Desire (Necrodeath).
Inserita da:
Jerico
il 06.05.2016 - Letture:
1132
Articoli Correlati
Altre News di MetalWave
Notizia Precedente
Notizia Successiva