GODS OF FOLK: i dettagli della terza edizione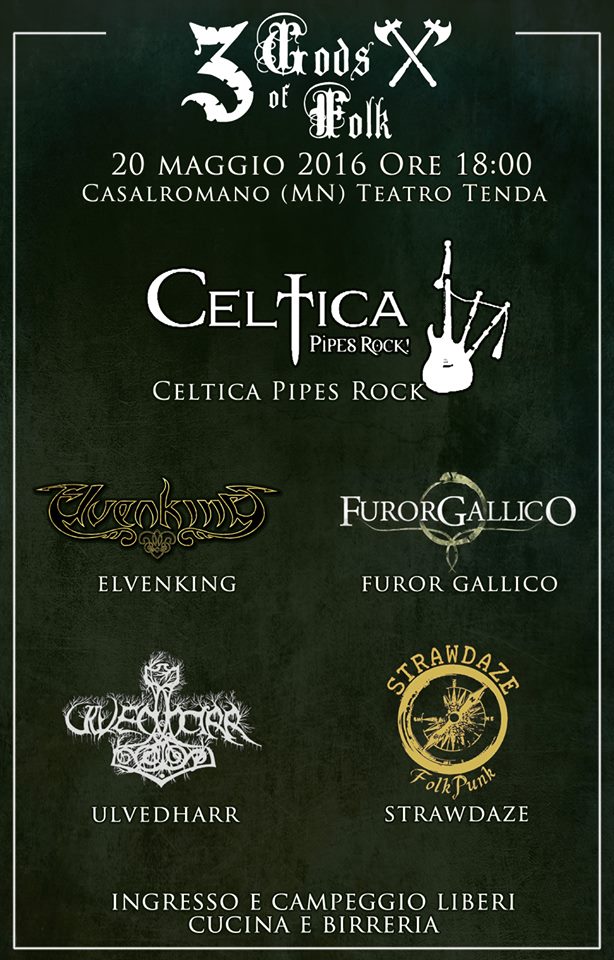 GODS OF FOLK – 3° Edizione – 20 maggio Casalromano MN
Ingresso Gratuito
E' confermato, torna Venerdì 20 Maggio 2016 , il GOF - Gods Of Folk, ormai classico appuntamento Folk-metal che si svolge a Casalromano (MN).
Nelle precedenti edizioni erano sfilati sul palco del grandioso tendone del paese padano nomi come Heidevolk, Varg, Folkstone, Kalevala e molti altri.
La manifestazione si svolgerà in una unica giornata e vedrà on-stage come headliner l'autentica novità di quest'anno: CELTICA PIPES ROCK, in Italia per l'unica data la band austro-scozzese-americana fonde il vero suono rock alle cornamuse ed ad uno spettacolo pirotecnico unico. Dopo un tour in Europa e negli Stati Uniti di grande successo , nei più grandi festival ( autentici mattatori a Waken) , in molte altre città europee e del mondo lasciando tutti senza fiato. Uno show esplosivo con le loro cornamuse, tamburi daranno potenza al motore del Gods of Folk. Una miscela musicale straordinaria, tutta da ballare, tra fuoco, rock e sonorità celtiche faranno scatenare chiunque.
I nostri ELVENKING dopo quasi un anno di "clausura" per nuove composizioni e mettere a punto il loro straordinario show, hanno scelto proprio il Gods Of Folk del 20 Maggio per la prima data assoluta ed esclusiva del loro tour europeo. La band di Damna & C. è quindi attesa al debutto con le loro nuove sonorità.
Gli ULVEDHARR che ormai hanno conquistato una larga fetta di fans riproporranno il loro adrenalinico act mentre attesissimi come sempre, i FUROR GALLICO riempiranno il tendone con la loro numerosa e allegra brigata.
Apriranno gli STRAWDAZE proprio di Casalromano che faranno gli onori di casa con il loro folk che sa di punk e Jack Daniels.
Sono previste anche altre iniziative che serviranno ad animare ancora di più la giornata e che verranno comunicate più avanti.
Per chi volesse restare aggiornato consigliamo la pagina FB
http://www.facebook.com/events/729290083843676/
bill completo - inizio ore 18,00 – ingresso gratuito
STRAWDAZE
ULVEDHARR
FUROR GALLICO
ELVENKING
CELTICA PIPES ROCK
Arrivederci a CASALROMANO allora…!!! Passa parola.
per info: leparc@tiscali.it
Inserita da:
Jerico
il 03.04.2016 - Letture:
1797
Articoli Correlati
Altre News di MetalWave
Notizia Precedente
Notizia Successiva