TRUEMETAL.it FESTIVAL 2015: il bill definitivo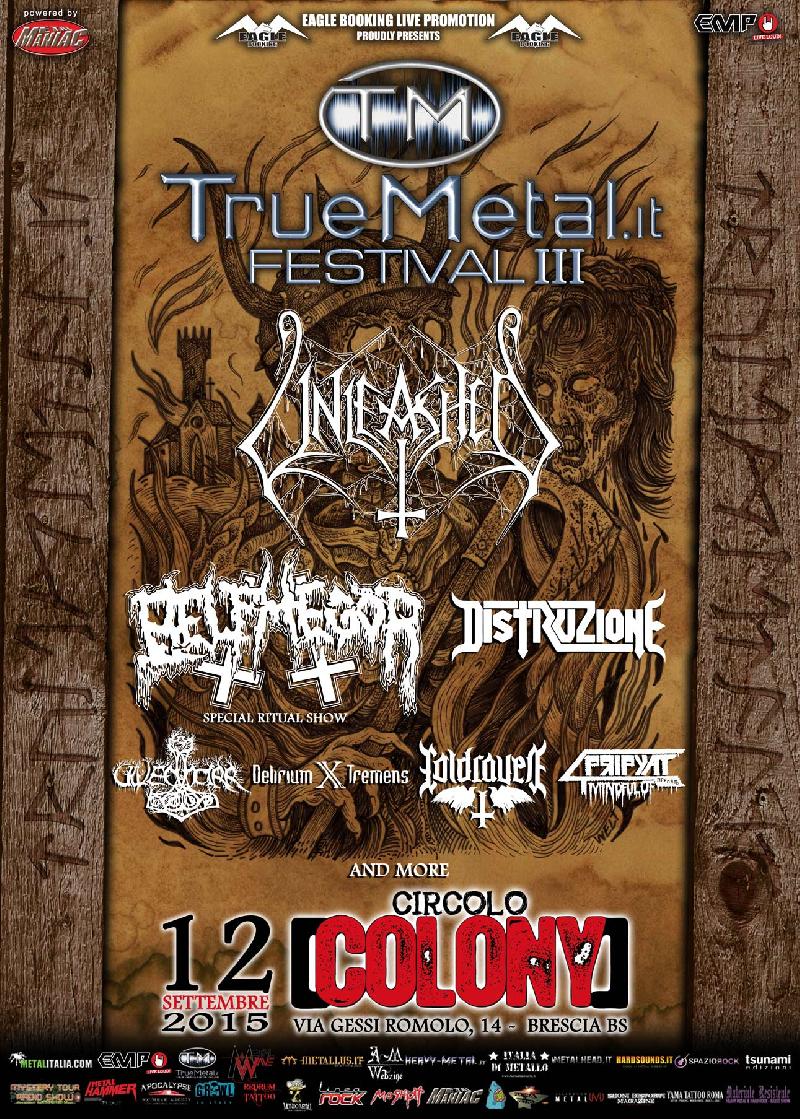 Con piacere annunciamo le due band che andranno a definire la line-up del TRUEMETAL.it FESTIVAL 2015, trattasi di due dei newcomer che il nostro territorio ha generato che e che si sono distinti per la qualità della proposta musicale e per la voglia di emergere mettendosi in gioco.
La prima conferma arriva dai COLD RAVEN, doomed black metal band milanese autrice dell'oscuro album d'esordio "Equilibrium and Chaos", lavoro che attualmente sta raccogliendo i consensi di pubblico e critica in tutto il continente Europeo.
Il compito di cominciare un evento del genere verrà affidato al feroce grind-core dei MINDFUL OF PRIPYAT, capitanati dalla potente voce di Tya (Antropofagus) i 4 sono già a riusciti a bruciare diverse tappe grazie alla pubblicazione del loro "​.​.​and deeper, I drown in Doom​.​.​" edito da Bizzare Leprous Production, album che tra gli altri obbiettivi raggiunti è valso alla band la presenza al prestigioso Obscene Extreme Festival 2015.
Sabato 12 Settembre
TRUEMETAL FESTIVAL 2015
UNLEASHED (unica data Italiana), BELPHEGOR (special ritual show), DISTRUZIONE, ULVEDHARR, DELIRIUM X TREMENS, COLD RAVEN, MINDFUL OF PRIPYAT
Circolo Colony - Via Romolo Gessi 14
Brescia
http://www.circolocolony.org
BIGLIETTI
Il costo del biglietto è di 25€ in prevendita e 30€ alla cassa il giorno del concerto.
Le prevendite sono disponibili attraverso il sito ufficiale del Colony Club a questo indirizzo
All'interno del locale oltre al merchandise ufficiale delle band, sarà presente un vero e proprio METAL MARKET con stand di dischi, rarità e altro:
Evento FB:
http://www.facebook.com/events/363394587202416
Info:
TRUEMETAL.it
http://www.truemetal.it
EAGLE BOOKING LIVE PROMOTION
http://www.eaglebooking.com
http://www.facebook.com/eaglebooking.italy
Powered By: METAL MANIAC
http://www.facebook.com/metalmaniacmagazine
Inserita da:
Jerico
il 04.08.2015 - Letture:
1828
Articoli Correlati
Altre News di MetalWave
Notizia Precedente
Notizia Successiva