DEADLY TIDE: continuano i lavori per "Tales From the Campfire"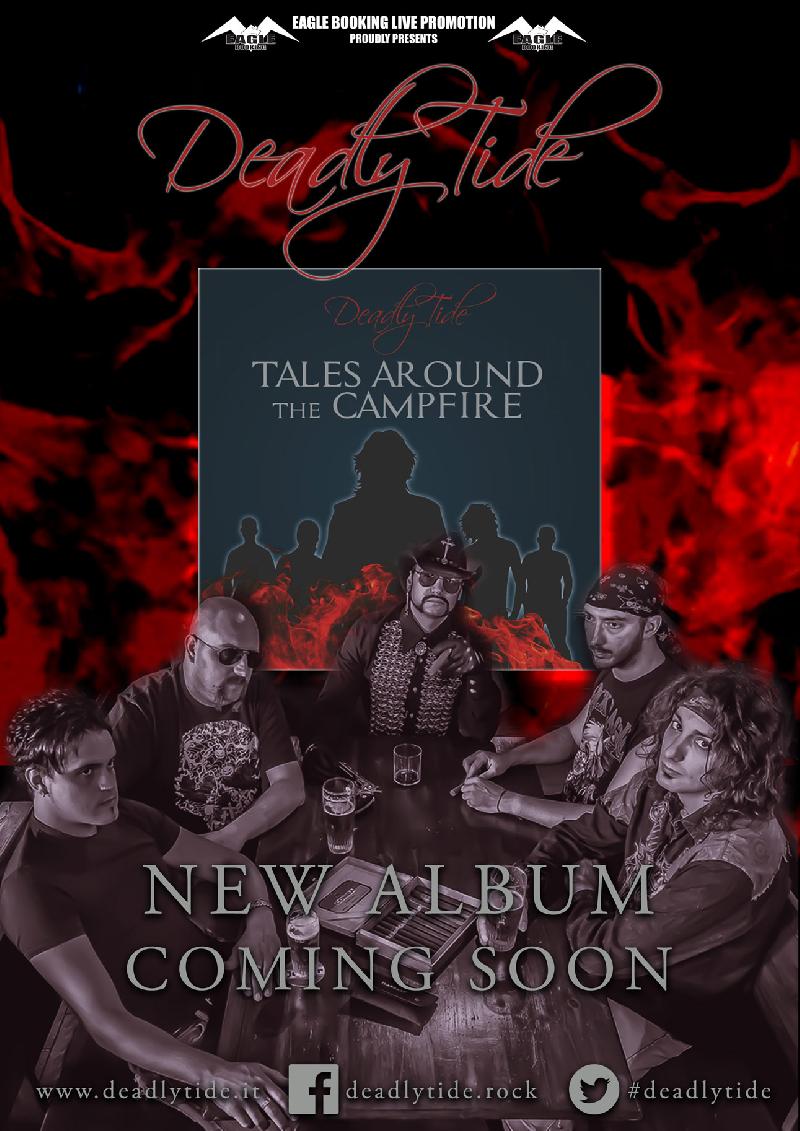 Continuano i lavori per la realizzazione e pubblicazione di "Tales From the Campfire", il nuovo album di imminente uscita dei rockers DEADLY TIDE.
In questa veste inedita che li vedrà impegnati in un opera "unplugged", i membri del combo toscano prendono la ponderata decisione di distribuire GRATUITAMENTE l'album rendendolo completamente scaricabile attraverso il sito ufficiale della band. Scelta al passo con i tempi e mirata ad un audience sicuramente più ampio, senza dover necessariamente passare dalla burocrazia e dagli intricati meccanismi del mercato discografico odierno.
Di seguito le parole di JD Nitro, cantante e frontman del gruppo:
"Siamo orgogliosi di questo album, rappresenta tutto quello che volevamo in questo determinato momento della nostra storia; insieme al produttore Andrea Ramacciotti abbiamo cercato e trovato la soluzione perfetta per le nostre esigenze e tutto è andato come doveva in fase di produzione. Da qui sono arrivate molte offerte di varie case discografiche da tutto il mondo, persone che non finiremo mai di ringraziare, ma avevamo bisogno di sentirci liberi. Oggi grazie al web le informazioni arrivano molto più velocemente, quello che interessa davvero ai Deadly Tide è diffondere il più possibile la propria musica e siamo fermamente convinti che il mercato discografico di oggi non sia più all'altezza delle proposte che ogni giorno scalpitano per emergere. Abbiamo riflettuto a lungo ed abbiamo deciso di offrire la nostra arte a chiunque ne voglia usufruire; del resto, l'esiguo guadagno che la stampa di un disco, attraverso le rigide regole di un mercato ormai morente, è ben poca cosa di fronte alla possibilità di far arrivare la nostra musica e quindi la essenza in maniera più diretta e veloce…esattamente nel modo in cui si muove il mondo nel 2015"
Per info riguardo la nuova release, ordinare i cd o il merchandise ufficiale, mp3, live dates, news e tutto quanto riguarda i DEADLY TIDE è possibile contattare direttamente la band tramite gli spazi web ufficiali.
DEADLY TIDE Offcial Web Site:
http://www.deadlytide.it
DEADLY TIDE Official Fb Page:
http://www.facebook.com/deadlytide.rock
Inserita da:
Jerico
il 20.07.2015 - Letture:
1271
Articoli Correlati
Interviste
Spiacenti!

Non sono disponibili Interviste correlate.
Live Reports
Spiacenti!

Non sono disponibili Live Reports correlati.
Concerti
Spiacenti!

Non sono disponibili concerti correlati.
Altre News di MetalWave
Notizia Precedente
Notizia Successiva