TRUEMETAL.it FESTIVAL 2015: UNLEASHED e altri al Colony di Brescia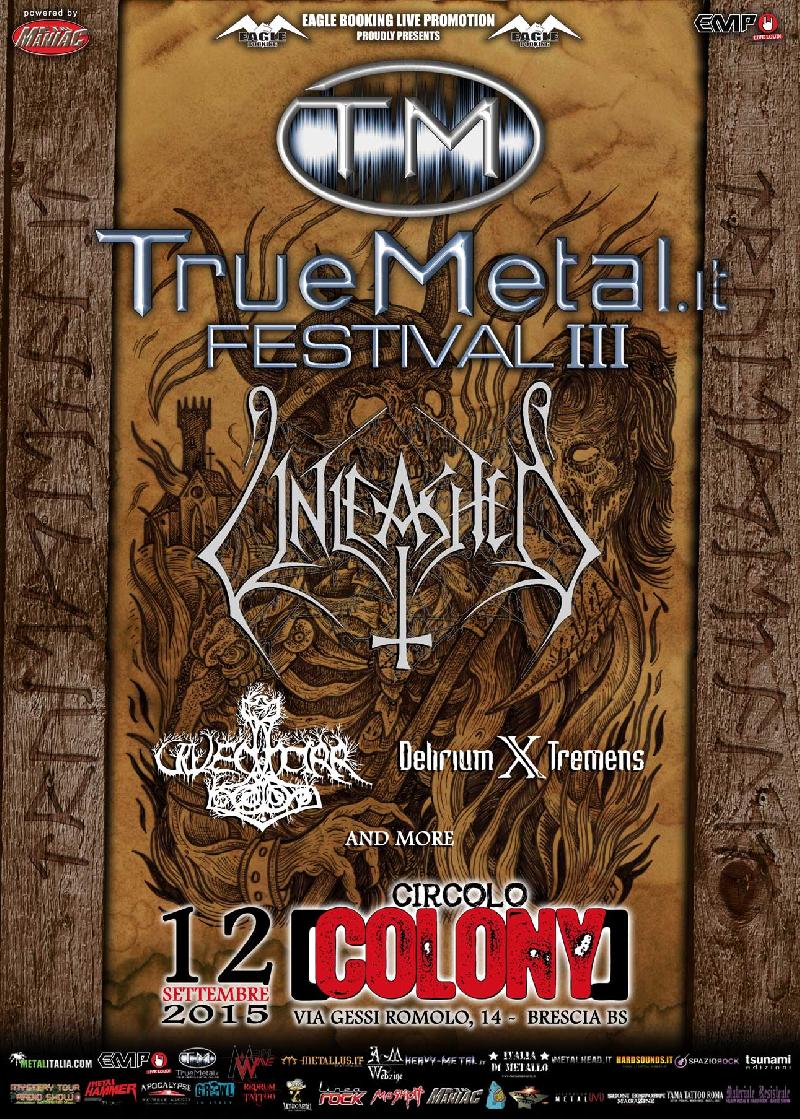 Si terrà Sabato 12 Settembre 2015 presso il COLONY CLUB di Brescia la terza edizione del TRUEMETAL.it FETSTIVAL. Primo headliner confermato sono gli UNLEASHED, padri del death metal svedese e delle sonorità legate a tematiche alle leggende delle terre del nord, hanno pubblicato di recente il loro nuovo album "Dawn Of The Nine" edito da Nuclear Blast Records, che da subito ha riscosso i consensi di pubblico e critica, ennesima conferma di un a band leggendaria.
Con loro ULVEDHARR, attualmente impegnati nelle date a supporto di "Ragnarök", la loro ultima fatica pubblicata di recente d Nemeton Records e i DELIRIUM X TREMENS con il loro "Dolomitic Death Metal".
A breve maggiori informazioni su orari, le altre band e altro.
L'artwork per il poster e il merchandise ufficiale del festival è ad opera di Welt, noto tattoo artist degli YAMA TATTOO studio di Roma.
Sabato 12 Settembre
TRUEMETAL FESTIVAL 2015
UNLEASHED, ULVEDHARR, DELIRIUM X TREMENS e molti altri
Circolo Colony - Via Romolo Gessi 14
Brescia
http://www.circolocolony.org
BIGLIETTI
Il costo del biglietto è di 25€
All'interno del locale oltre al merchandise ufficiale delle band, sarà presente un vero e proprio METAL MARKET con stand di dischi, rarità e altro:
Evento FB:
http://www.facebook.com/events/363394587202416/
Info:
TRUEMETAL.it
http://www.truemetal.it
EAGLE BOOKING LIVE PROMOTION
http://www.eaglebooking.com
http://www.facebook.com/eaglebooking.italy
Powered By: METAL MANIAC
http://www.facebook.com/metalmaniacmagazine
Inserita da:
Jerico
il 06.07.2015 - Letture:
1622
Articoli Correlati
Altre News di MetalWave