FAUST EXTREME FEST: aggiunti INFERNAL WAR, NERODIA, DEATHLESS LEGACY, PLATEAU SIGNA e CORLD RAVEN al bill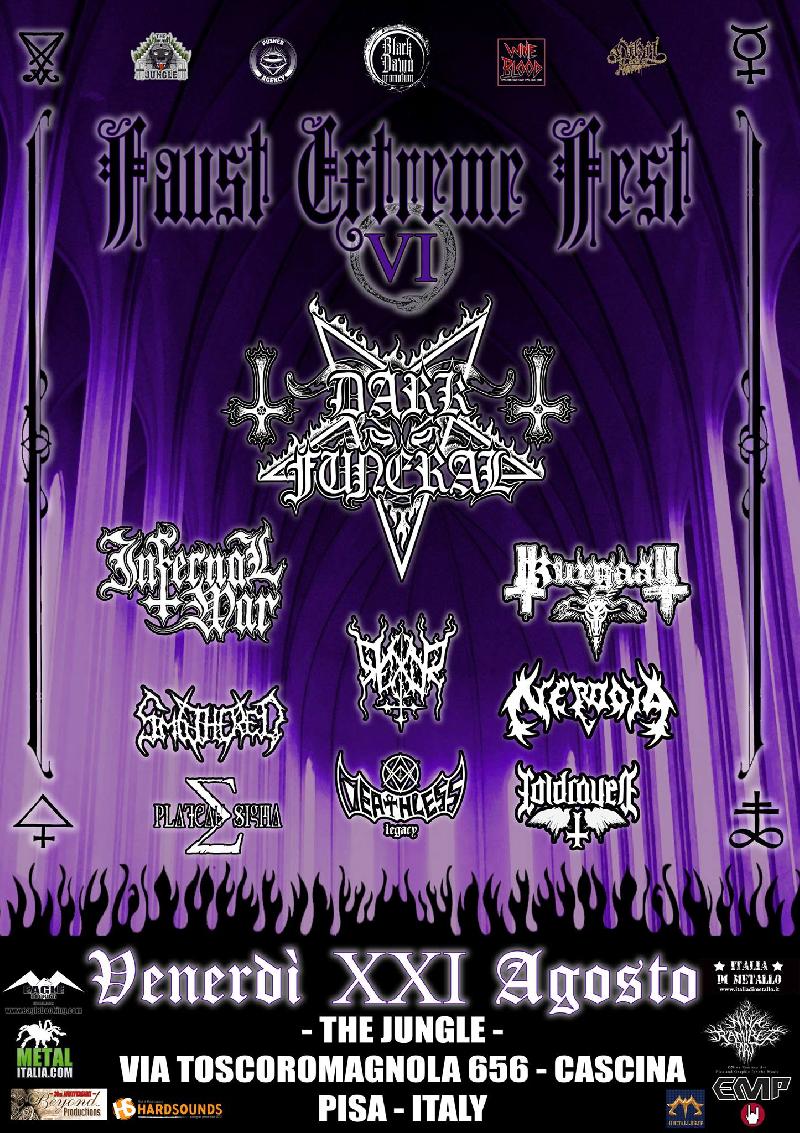 Black Dawn Promotion in collaborazione con The Jungle, Nihil Prod, Pusher Agency e Wine Blood Records è lieta di annunciare la VI edizione del FAUST EXTREME FEST:
Festival Open-Air che si svolgerà nella splendida area verde del Parco Collodi di Cascina, a pochi minuti dal centro e dalla stazione, collegato con mezzi pubblici e dotato di ampio parcheggio a due passi dalla location. In questo spazio negli ultimi anni si sono esibiti artisti internazionali di altissimo livello ed hanno avuto luogo le ultime due edizioni del nostro Festival.
Già allestito con un grande palco, un'area ristoro e due sale discoteca esterne, aperte fino all'alba, quest'anno il tutto verrà ampliato per garantirvi maggiori servizi e maggiore divertimento!
Il FAUST EXTREME FEST sin dalla sua prima edizione, ha avuto l'obiettivo di dare spazio al Metal Estremo e all'Underground, affiancando grandi nomi a valide realtà italiane.
Dopo aver ospitato nella scorsa edizione i padri della prima ondata Black Metal, i leggendari Venom, abbiamo pensato di proseguire il discorso avviato, scegliendo come Headliner di quest'edizione uno dei gruppi scandinavi che più ha influito nello sviluppo e nell'affermazione del Black Metal della seconda ondata: i DARK FUNERAL, band culto formatasi nel lontano 1993, che dopo molti anni torna nella nostra penisola ad incendiare il palco in questa UNICA DATA ITALIANA, con una nuova line-up e nuovi pezzi!!!
Dopo il sondaggio fatto sull'evento abbiamo richiesto disponibilità alle bands che avevano ottenuto più voti dal pubblico e confermiamo oggi come Co-Headliner i polacchi INFERNAL WAR, che tornano in Italia per questo show esclusivo! Inseriranno nel set le nuove composizioni del recentissimo "Axiom", uscito pochi mesi fa per Agonia Records e contaminato più che mai dalle sonorità Bleckened Death Metal, ormai bandiera della scena polacca. Un gruppo che live è una garanzia e non vi lascerà sicuramente un attimo di respiro!
Due promettenti realtà del Black Metal italiano avranno il compito di creare la giusta atmosfera prima della totale discesa delle tenebre. I KURGAALL, che dopo numerose date in Europa, presenteranno in anteprima assoluta i pezzi del loro terzo album, in imminente uscita; questa band per chi ancora non la conoscesse è un concentrato di sangue, odio e satanismo, capitanata da Lord Astaroth, con nuovi membri, vi lascerà assolutamente annichiliti! Poco prima si esibiranno i REXOR, per la prima volta con la nuova formazione; suoneranno i pezzi dell'ultima fatica discografica "Ut Humanitatem Caedant", ma anche alcuni cavalli di battaglia delle precedenti releases da loro realizzate.
A fronte dell'ottima affluenza dell'anno scorso, ottenuta sin dall'apertura, abbiamo deciso di far iniziare i concerti molto presto anche in questa sesta edizione, in modo da dare l'opportunità di esibirsi a più bands underground possibili, italiane ed estere.
I NERODIA da Roma, sono fra le nuove conferme, questa band vanta fra i componenti membri di Doomraiser, Stormlord, VII Arcano e propone un Blackened Death Metal molto personale e di impatto, con echi Thrash Metal che donano varietà e dinamismo sia ai pezzi che alle performances dal vivo!
Dalla Svezia invece hanno confermato la loro partecipazione i death metaller SMOTHERED, diretti e senza compromessi porteranno sul nostro palco il classico sound Swedish Death Metal, trascinandovi in un tritacarne pomeridiano senza via di fuga! Per spezzare "l'abbondanza di blast" e di sonorità veramente estreme che caratterizzeranno gran parte della giornata, abbiamo pensato di inserire i DEATHLESS LEGACY, band di casa che fa parlare di se oltre che per la propria musica, anche per le particolari performance live in pieno stile Horror Metal! Cercando come nelle scorse edizioni di dare varietà al Fest, abbiamo inserito band di diversi generi, fra le nuove conferme annunciamo anche due formazioni dalle palesi influenze Doom, i PLATEAU SIGMA, usciti l'anno scorso per Beyond…Production, mischiano elementi Doom e Death Metal con atmosfere introspettive, avanguardistiche e decadenti; e i COLD RAVEN, band recentissima, ma che sta ottenendo ottimi responsi a fronte dell'uscita del loro primo full "Equilibrium and Caos", un misto di Black Metal ferale e Doom luciferino! Presto annunceremo le ultime bands che andranno a completare il bill! Stay tuned!!!
Venerdì 21 Agosto 2015
FAUST EXTREME FEST
The Jungle
Via tosco Romagnola 656 - Cascina (PI)
Ψ DARK FUNERAL Ψ
(Swedish Black Metal Legend)
https://www.facebook.com/darkfuneral?fref=ts
INFERNAL WAR
(Black/Death Metal from Poland)
https://www.facebook.com/infernalwar?fref=ts
—————– 666 UNICA DATA ITALIANA 666 ————–
KURGAALL
(Satanic Black Metal)
https://www.facebook.com/KURGAALL?fref=ts
REXOR
(Anti-Human Black Metal)
https://www.facebook.com/rexorofficial?fref=ts
NERODIA
(Trashing Black Metal Maniacs)
https://www.facebook.com/nerodiaband?fref=ts
SMOTHERED
(Swedish Death Metal War Machine)
https://www.facebook.com/SmotheredSWE/timeline
DEATHLESS LEGACY
(Horror Metal Local Heros)
https://www.facebook.com/nerodiaband?fref=ts
PLATEAU SIGMA
(Funeral Doom/Death)
https://www.facebook.com/nerodiaband?fref=ts
COLD RAVEN
(Doomed Black Metal)
https://www.facebook.com/nerodiaband?fref=ts
+ more guests
Official Event FB:
http://www.facebook.com/events/797170470399937
Inserita da:
Jerico
il 11.06.2015 - Letture:
1835
Articoli Correlati
Altre News di MetalWave