VOICES FROM THE UNDERGROUND FEST: il bill dell'evento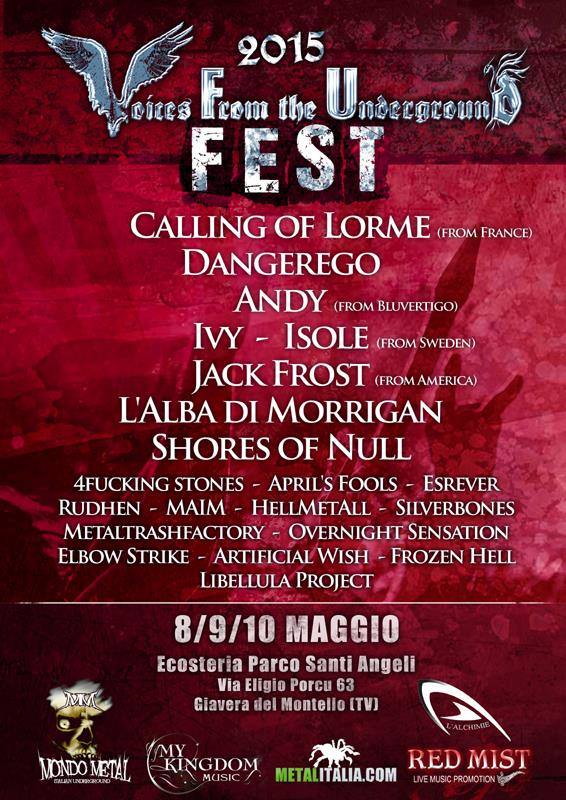 È stato svelato il bill completo della seconda edizione dell'evento VOICES FROM THE UNDERGROUND, curato dall'agenzia omonima, che si svolgerà dall'8 al 10 maggio all'Ecosteria Parco Santi Angeli di Montello (TV).
08/05/2015
- Calling of Lorme (Industrial Metal from France)
- Dangerego (Alternative Post Grunge from Italy)
- Elbow Strike
- 4fucking Stones
- Rudhen
- Esrever
Aftershow - Ambient/Electro Show by Libellula Project
09/05/2015
- Ivy (Electro Post Rock from Italy)
- MAIM
- April's Fools
- HellMetAll
- SilverBones
- Metaltrashfactory
Aftershow - Dj Set by Andy from Bluvertigo
10/05/2015
- Isole (Epic Doom Metal from Sweden)
- Jack Frost (Guitar Hero from Seven Witches, Metalium, Savatage)
- L'Alba di Morrigan (Alternative Post Rock/Metal from Italy)
- Shores of Null (Melodic Doom Metal from Italy)
- Frozen Hell
- Artificial Wish
- Overnight Sensation
Inserita da:
HeavyGabry
il 11.03.2015 - Letture:
1628
Articoli Correlati
Interviste
Spiacenti!

Non sono disponibili Interviste correlate.
Concerti
17 Lug. 2022

LUPPOLO IN ROCK 2021: Katatonia + Leprous + Moonspell + Novembre + Shores Of Null @ "Parco Ex Colone Padane", Cremona (CR)
Altre News di MetalWave
Notizia Precedente
Notizia Successiva