PEDAL TO THE METAL: i dettagli della serata torinese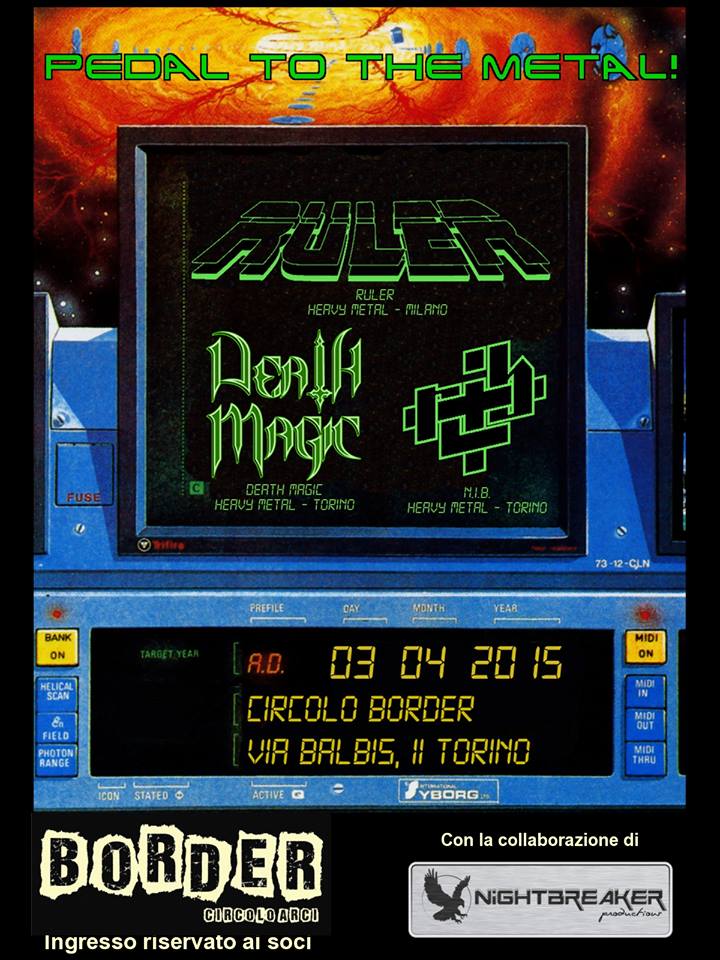 Serata all'insegna dell' Heavy Metal classico, che vedrà sul palco i milanesi RULER che per l'occasione presenteranno il loro nuovo "acquisto", il bassista di casa 100% torinese Mirko Negrino (ex-Endovein)!
Ad accompagnare i lombardi ci sarà la storica band NIB, gruppo cult torinese formatosi nel 1983, che dopo anni di silenzio si è riunita nel 2013 per riprendere l'attività live e registrare il lungamente atteso full-lenght "The Awareness", che sarà finalmente presente alla serata.
Ad aprire le danze ci penseranno i DEATH MAGIC, che ci presenteranno alcuni dei nuovi pezzi che finiranno nel fatidico album d'esordio in lavorazione.
Alla serata presente la distro della NIGHTBREAKER PRODUCTIONS:
Pagina Facebook:
https://www.facebook.com/NightbreakerProduction
Sito Web:
http://www.nightbreakerprod.com
RULER (Heavy Metal - Milano):
https://www.facebook.com/RulerHM
NIB (Heavy Metal - Torino):
https://www.facebook.com/pages/NIB/201581770052903
DEATH MAGIC (Heavy Metal - Torino):
https://www.facebook.com/DeathMagicHM
Prezzo: 5 Euro
Ingresso Riservato ai soci ARCI
Venerdì 3 Aprile 2015 presso Border, Via Balbis 11 Torino
PEDAL TO THE METAL!: RULER + N.I.B. + DEATH MAGIC
Evento facebook:
https://www.facebook.com/events/1411500419147817
Inserita da:
Jerico
il 02.03.2015 - Letture:
912
Articoli Correlati
Altre News di MetalWave