«TOTAL METAL FESTIVAL 2014: Day 2»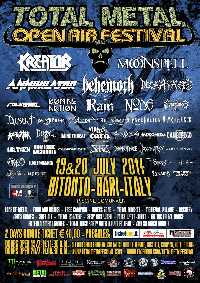 Data dell'Evento:
20.07.2014
Nome dell'Evento:
TOTAL METAL FESTIVAL 2014: Day 2
Band:
Moonspell
Annihilator
Coldsteel
Domine Nation
Ecnephias





Rain





Desert
Psycholies
Andromeda




Aggravator
Mindthreat
Symbolyc



Dangerego


Carboncoke
4bitten
Domination
Black Propaganda




Embryo






The Strigas



Black Inside



No More Fear




Lykaion




Luogo dell'Evento:
Piscine Comunali
Città:
Bitonto (BA)
Promoter:
Total Metal Festival

.
Vivo Management

Autore:
Haunted

»
Visualizzazioni:
2423
Live Report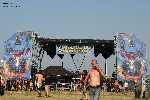 La giornata di domenica inizia presto, alle 8 erano quasi tutti in piedi: stanati dal caldo e costretti ad uscire dalle tende, in poco tempo tutti in fila per cornetto e cappuccino come nella miglior tradizione italiana, una doccia e di nuovo pronti per ributtarsi nella mischia o fare acquisti alle bancarelle.
La giornata scorre tranquilla sotto il sole cocente, con le band che si alternano fin dal mattino con più o meno pubblico a seguirli, in attesa degli headliner della serata.
Tra le band che si sono fatte valere maggiormente annoveriamo Likaion, Rain, Ecnephias, 4Bitten e segnaliamo il forfait degli Aggravator, i quali non hanno suonato, anticipando di mezz'ora tutti i concerti del pomeriggio.

Verso sera salgono sul palco, direttamente da Long Island - New York, i Cold Steel, autori di un groove thrash metal molto caratteristico della east coast americana. Con solo un disco all'attivo in 28 anni di carriera, numerosi EP e demo, i Cold Steel hanno dato prova di tecnica e presenza scenica, alternando pezzi propri al side project del chitarrista e del bassista (veramente valido), per un ora di intrattenimento prima di lasciare il palco ai canadesi Annihilator.
Vi dirò: questi il thrash sanno bene come si suona! Nel pomeriggio per la band di Jeff Waters c'era una fila lunghissima al meet and greet (tanto che sotto al palco erano rimasti veramente in pochi), e questo ci fa capire quanta gente aspettasse la band! Nonostante ci fosse meno affluenza rispetto alla serata di sabato, senza dubbio è stato un signor concerto: un'ora di thrash metal, 25 anni di storia raccontata ai posteri nel migliore dei modi, da "King of The Kill", "Deadlock", "Ultraparanoia", "Alison Hell", insomma tanta roba! Quest'anno al TMF hanno fatto centro con le band, decisamente una migliore dell'altra, e infatti si finisce alla grande con Fernando Ribeiro e soci.
È il turno dei portoghesi Moonspell. Lo ammetto: ero molto scettico nei loro confronti. Avevo avuto solo un'altra occasione di vederli dal vivo, qualche anno fa al Wacken Open Air e non mi avevano convinto molto... ed invece questa volta mi sono ricreduto alla grande! Veramente un bellissimo concerto, pieno di atmosfera e per niente scontato.
La band ha suonato molti pezzi storici iniziando con "Axis Mundi" (dal loro ultimo lavoro "Alpha Noir- Omega White"), poi si va avanti con pezzi piu o meno classici come "Awake", "Opium", "Love Is Blasphemy" e ancora "Em Nome Do Medo", "Vampiria", grande risposta del pubblico che canta la maggior parte delle canzoni insieme alla band per poi andare verso la fine del festival con "Ataegina" (la canzone che non ti aspetti decisamente, bonus track della ristampa digipack del loro primo disco "Wolfheart") e per finire, finale col botto direi, "Alma Mater" e "Full Moon Madness" ci stanno benissimo, chiudendo quella che è stata una delle migliori band del festival.

E tra le ultime birre e cibo vario dagli stand gastronomici piano piano la gente si ritira alle proprie tende, felici, stanchi e con il collo indolenzito come giusto che sia... e consapevoli di tornare presto alla propria quotidianità! Speriamo di trovare la stessa atmosfera il prossimo anno.
Magari con un po più di gente!!!

Alla prossima!
Immagini della Serata
Recensione di
Haunted
Articolo letto
2423
volte.
Articoli Correlati