Testament + Dew-Scented + Bleed From Within
Data dell'Evento:
16.03.2013
Band:
Testament
Dew-Scented
Bleed From Within



Luogo dell'Evento:
Tempo Rock
Città:
Gualtieri (RE)
Promoter:
Hellfire Booking

Autore:
Karmator

»
Visualizzazioni:
2365
Live Report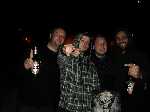 Unica data italiana stasera per i Thrasher americani Testament, supportarti dai tedeschi Dew-Scented e gli inglesi Bleed From Within. La location non è proprio la migliore in assoluto, ma di volta in volta sta migliorando sia come suono che come organizzazione (l'ultima volta che mi trovai qui fu per la data dei Nile 2 anni fa), il Tempo Rock di Gualtieri (RE) devo dire che mi ha sorpreso stavolta!! Arrivato verso le 7.40, ho giusto il tempo per godermi l'official merch e prendere da bere mentre comincia l'esibizione dei novellini Bleed From Within. Devo dire a malincuore che proprio non c'entrano niente stasera, un metalcore davvero banalissimo e scontato con nessun assolo ma solamente un'infinità di breackdown uno dietro l'altro che annoiano parecchio i presenti. Nonostante Scott al microfono inciti la folla con ripetuti circe pit, gli spettatori rimangono fermi e molto annoiati come il sottoscritto. Direi di stendere un velo pietoso e continuare con una band che apprezzo notevolmente sia come disponibilità con i fan che come musica, mixando un perfetto thrash/death metal davvero micidiale e forti della loro ultima uscita "Icarus", i Dew-Scented si presentano al meglio delle loro forze!! Leif al mic è un animale senza pietà mentre Koen alla batteria suona in modo preciso e impeccabile, mentre Rory, Marvin (chitarre) e Joost (basso) si divertono e spruzzano cattiveria dai loro strumenti scatenando un ottimo pit in centro al parterre. A disposizione poco meno di un'ora di musica che gestiscono al meglio presentando vecchi e nuovi brani (anche dal primo album!!) facendo brezza nei cuori di coloro che fino a stasera non conoscevano la band. 10 canzoni veloci e senza pietà partendo con "Hubris" e "Sworn to Obey" continuando presentando pezzi da "Icarus" per finire con "Thrown to the Lions" e "Acts of Rage", lasciando a mio grande rammarico "Arise From Decay" (per me un concerto a metà senza presentare un brano simile). Dopo circa mezz'ora di cambio palco si presenta dietro le pelli la leggenda vivente di Hoglan che da il via libera all'entrata poi al resto della band, i Testament. Forti degli ultimi 2 incredibili album, di fatti i Nostri partono con "Rise Up" e "More Than Meets The Eye" continuando con "Burn Offering". C'è da dire che purtroppo dalle primissime e schiacciatissime file la voce di Chuck si sente e non si sente, gli assoli di Eric invece te li dovevi immaginare. Ma niente paura, il carisma e il pathos che sprigionano stasera basta e avanza per non curare questi "minimi" dettagli. Continuano poi con 3 brani estratti dalla loro ultima fatica, "Native Blood", "True American Hate" e "Dark Roots of Earth". Dopo un inizio moderno e schiacciaossa, direi che è arrivato il momento di rivivere gli immortali anni 80/90 con brani come "Into The PIt", "Practice What You Preach", "Riding the Snale", "Eyes of Wrath", "Over the Wall", "The Haunting" e "The New Order" sparati senza pietà e senza sosta che mi fanno temere di non sostentare più nella seconda fila. Chuck molto in forma e allegro, proprio semina tantissimi plettri al pubblico mentre ci illumina col suo microfono. Chiudono dopo 1.30h precisa di concerto con "D.R.N.", "3 Days in Darkness" e "The Formation of Damniation" con il pubblico esausto ma ancora in bisbiglio, la band notevolmente affaticata ma precisa come un orologio svizzero e Hoglan che dimostra come bisogna suonare la batteria ai giorni d'oggi. Un'ottima serata conclusasi con foto e autografi insieme ai Dew-Scented e Testament fuori dal locale. Ancora una volta, le vecchie glorie danno filo da toccare alle nuove leve, bisogna solamente imparare dalle leggende come suonare musica!!
Immagini della Serata
Recensione di
Karmator
Articolo letto
2365
volte.
Articoli Correlati