Intervista Flash: Hyperion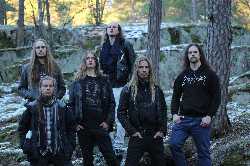 Hyperion è il nome di un nuovo progetto che va ad inserirsi nella multiforme e tumultuosa scena metal italiana. Jerico ha intervistato per voi i ragazzi del gruppo: sentiamo cosa hanno da dire!
Visto che siete alla prima intervista in questo sito, perché non presentate ai nostri lettori quando ed in che modo avete iniziato il vostro percorso nel mondo underground?
Hyperion started with humble beginnings in mid 2007 in the southern suburbs of Stockholm, Sweden. It basically all began with me (Erik Molnar) coming in contact with our former singer Erik Thorell via a website for musicians called Bandfinder. After talking for a over the internet, we met up and started jamming on old In Flames and Metallica songs and already the first day, we started writing music. Soon thereafter, we were teamed up with bass player August Bengtsson and drummer Anders Peterson and the line up was complete. Many things have happened since then. The line up has obviously changed quite drastically since those days and if I were to tell you everything that has occurred since then, this article would get far to tedious for anyone to read. The rest is history as they say.rnrnThe main mission of Hyperion however, has always been to create melodic, yet aggressive music in our own way in order to convey a special and magical atmosphere to our listeners and to ourselves.
Da quali generi e bands è influenzato il gruppo?
The band draws inspiration from a lot of artists from many different genres, but I suppose I could name a couple of important artists that have really affected our way of composing music: Emperor, In Flames (old material), At The Gates, Dissection, Glenn Stafford, Paul Anthony Romero and Marduk.rnrnWe seek inspiration in any kind of music that has a unique and special touch to it, typically epic, melodic, atmospheric and also brutal/extreme music. I personally prefer my music epic and grandiose in every sense of the word, so that is what we try to generate in our music as well. That inspiration can come across in many shapes and sizes, such as: Black Metal, Death Metal, Melodic Death Metal, Power Metal, Movie Soundtracks, Game Soundtracks, Heavy Metal, Classical Music and much more.
So che potrebbe non essere facile farlo, ma potreste commentare il vostro ultimo lavoro?
I presume you are referring to our latest album "Seraphical Euhpony" when you say "job"?rnrnIf that is what you mean, then that album represents everything we have worked, bled and sacrificed for since our very inception. We are very proud of it and we could not have done it much better than the way it already is. It contains 9 carefully constructed pieces of music that is meant to place the listener in a very special state of mind. The lyrical concepts are generally positive and are supposed to be uplifting, motivational, but they are also an honest reflection how the world works and what needs to be done in order to achieve your uttermost yearnings.
La scena metal underground è indubbiamente inflazionata da tantissmi gruppi, per cui (spesso) risulta necessario presentare delle composizioni che si facciano notare nel marasma delle varie scene musicali. Ritenete che le vostre canzoni abbiano da dire qualcosa in più o di diverso da quello che è già stato detto nell'affollatissimo mondo metal?
I don't know what you mean by "Tantissmi" groups, but I believe that we definitely have something different to say than what many other bands are attempting to say in their lyrics. To me, it seems like not enough bands put enough effort into making lyrics that actually mean something to them, or to anyone else for that matter. Our lyrics are in contradiction to many of our peers, very positive if you really get to the core of them. Naturally, that is a huge difference, but they are also veiled and ciphered within layer upon layer of metaphors. Perhaps if you scratch the surface of our lyrics, they can appear quite typical "metallish", but if you take a closer look at them and read them in the way they are supposed to be read, then I think you would agree.
Cosa pensate del panorama underground nazionale?
The Swedish underground scene is very healthy in terms of metal bands per capita. That of course leads to positive and negative outcomes for Swedish Metal in general. There are a lot of extremely crappy and boring bands, but there are also those that stand out from the armada of shit bands and that are really doing something worthwhile. All in all, I would say that I am very proud to be born and raised in a country which houses so many legends within Extreme Metal and that makes me all the more motivated to try as best as I can to not try to bring any disgrace to that legacy.
La carriera di un gruppo musicale (pur breve che possa essere) è sempre costellata di avvenimenti più o meno positivi. Cosa vorreste cancellare e cosa ricorderete per sempre della vostra esperienza di gruppo, dagli inizi inizi sino ad ora?
There are moments which I would have rather not experienced, but there are many more moments of pride, joy and general actualization that I cherish far more than the negative ones. However, I am a strong believer that adversity creates strength if you deal with it in a positive manner, so there is nothing I want to delete. Everything that has happened has occurred for a reason and without those long, endless hours in the studio for example, we would not be where we are now, which is a vastly different place than where we were say 4-5 years ago.rnrnThe proudest moment of my life in general was without a doubt when we released our debut album a couple of months ago. It felt fantastic beyond description and I am so glad that we finally completed what we set out to do so long ago. I will always remember this period surrounding the release of our album since it means so much to me personally and I am blessed to be able to share it with the rest of the world.
Come giudicate il veicolo Internet per la promozione della scena musicale?
I think the internet is fantastic for promoting music. It gives you instant access to countless possible listeners at the reach of a button and there are more sources of promotion and visibility now than ever before. Of course, that comes with some bands spamming and over exposing their material, but that does not bother me anymore. It is because of digital platforms such as Facebook, YouTube, Bandcamp etc that we have received most of our attention and therefore we cannot deny the necessity, nor the power that online social media can supply in terms of exposure.
Visto che ne stiamo parlando.... quanti CD originali acquistate ogni mese? E quanti ne ascoltate?
I honestly don't really understand that question either... But if you are asking about how many physical CD:s I buy each month, it's not many, usually 0. I am currently studying, so my economy cannot adapt to such luxuries at the moment. Although, I do have a CD collection of about 300 CD:s which I plan to expand when my studies are completed.rnrnI usually listen to music through streaming services like Spotify, or YouTube.
Cosa vuole fare il vostro gruppo da grande?
I don't comprehend what you are trying to ask me.
Ok, ragazzi! Lo spazio a nostra disposizione sta per terminare, ma voglio lasciarvi carta bianca per l'ultimo messaggio. A voi la parola, siete liberi di esprimervi!
On behalf of every member in Hyperion, I would like extend my deepest gratitude to each and every individual that has bought our music, listened to our music, bought our t shirts and supported us in any way. It really means the world to us and we will never forget it. Check out our debut album "Seraphical Euphony" and spread it to your fellow friends and family if you appreciate what we are doing. Cheers!rnrn// Molle

Intervista di
Jerico
Articolo letto
438
volte.
Articoli Correlati
Interviste
Spiacenti!

Non sono disponibili Interviste correlate.
Live Reports
Spiacenti!

Non sono disponibili Live Reports correlati.
Concerti
Spiacenti!

Non sono disponibili concerti correlati.