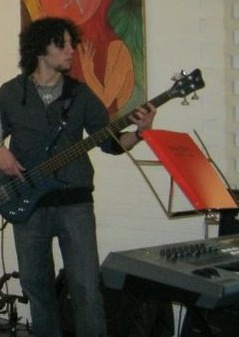 Nome:
Francesco
Nickname:
Desaparecido
Classe:
1992
Città:
Napoli
EX UTENTE!!!!
Non più presente nello staff di MetalWave
Vibrazioni:
Heavy Metal, Power Metal, Hard Rock, Folk (italiano e non), Rock, Gypsy Punk, Funky.
Pietre Miliari:
Holy Diver (Dio), Battle Hymn (Manowar), Peace Sells...But Who's Buying? (Megadeth), Super Taranta! (Gogol Bordello), Keeper Of The Seven Keys Part II (Helloween)
Canzone:
Dio - Rainbow In The Dark | Gogol Bordello - Wonderlust King | Helloween - I Want Out | Folkabbestia - Le Vie del Folk | Manowar - Battle Hymn | Alestorm - Over The Seas | Marsh Mallows - Brucia Ancora
Hobbies:
Suonare il Basso Elettrico, Guardare film, Concerti, Leggere libri.
Film Preferiti:
Rush Hour, Let The Right One In (prima versione), Freedom Writers, Scott Pilgrim Vs The World.
Motto:
"Se ammettiamo che l'essere umano possa essere governato dalla ragione, ci precludiamo la possibilità di vivere."
Contatta:
Invia una email